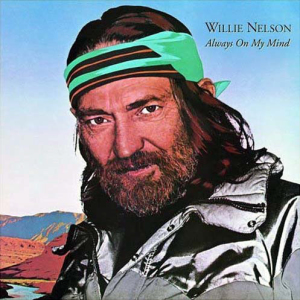 Willie Nelson – Always on My Mind Columbia FC 37951 (1982)
---
Willie's star soared in the late 1970s and early 80s.  Red Headed Stranger was a big hit, but Stardust blew it away with multi-platinum sales.  Riding high on that success Willie even began an acting career, culminating in a starring role in the film Honeysuckle Rose.  However, after Stardust he had released mostly soundtracks and niche albums like a holiday one, a gospel one, a tribute to Kris Kristofferson and an assortment of duet/collaboration outings.  He also issued what remained for a long time his definitive "best of" compilation: Greatest Hits (& Some That Will Be).
Always on My Mind proved to be Willie's highest-charting album, and one of the best selling releases of his entire career.  He still had chart-busters left in him, but this represented the high-water mark of his popularity.  It also marked another departure for him, in a career that always veered (or some might say lurched) in unpredictable directions.  This was the arrival of Willie the 80s pop singer.
Producer Chips Moman comes on board.  He would work with Nelson a lot in the coming years.  Moman has an uneasy legacy, in hindsight often criticized for his clinical, overproduced destruction of numerous albums, from Townes Van Zandt in the late 1970s to The Highwaymen and Johnny Cash in the 1980s.  But, that legacy aside, Always on My Mind is among his more durable efforts (eclipsed of course by Elvis' From Elvis in Memphis).  He lets this ride on the strength of the performances rather than a suffocatingly synthetic layer of studio and mixing gimmicks.  Willie is singing lots of pop and rock fare, tending toward lighter, slow-burn ballads and torch songs.  These are much much more contemporary tunes than on Stardust.  He takes somewhat of a cue from Elvis, who recorded the title track, Simon & Garfunkel's "Bridge Over Troubled Water" and "Let It Be Me (Je t'appartiens)" during his 70s comeback.  Willie possibly edges out The King on the title track, though Willie hits the top of his vocal range on "Bridge Over Troubled Water" and noticeably can't go as high as he seems to want to go (no pun intended).  Much of the material is well-selected, like "Do Right Woman, Do Right Man" and Procol Harum's "A Whiter Shade of Pale."  A couple of obligatory re-recordings of old Nelson hits make appearances as well.  One can forgive, somewhat, the fact that Moman seems to be pushing a few too many of his own songs because they happen to work, particularly the opener with its guest appearance by Waylon Jennings.  But this album does exhibit some serious lapses in judgment.  When a saxophone enters on "Let It Be Me," it is as if Gato Barbieri stumbled into Nelson's recording session amidst a marijuana haze and thought he was redoing the Last Tango In Paris soundtrack, or somebody was warming up for the "Lethal Weapon" soundtrack.  That sax (from John Marett) is probably the album's biggest liability.  It is unredeemable.
If Always on My Mind represented some of the worst tendencies of Willie Nelson's music in the coming decade, it would be hard to tell from this evidence alone.  At its best, this ends up being one of his stronger pop outings.  Aside from some slight unevenness, it delivers a classic in the title track and has enough other successes to keep things interesting.  Warts and all, this is probably something that will appeal to casual fans of pop music, even without any particular interest in the artist, and ranks as a worthwhile second-tier Willie Nelson effort for the fan.