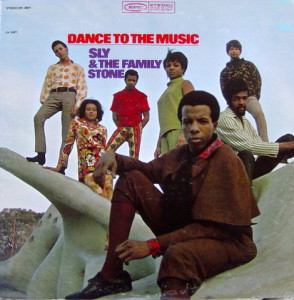 Sly & The Family Stone – Dance to the Music Epic BN 26371 (1968)
---
In 1968 Sly' second album turned pop music on its ear. His energetic blend of funky vamps with a host of rock influences left an indelible mark. The bright idealism and overflowing energy take this music to a higher level. Sly's confidence and sheer willpower transform what seems laughable on paper.
Where the group's debut had decent results employing a shotgun approach to contemporary soul styles, Dance to the Music explodes by digging into the dazzling musicianship of the group, highlighted by Sly's expertly textured production. The title song is considered the classic song of the album, but it is perhaps the least interesting as it sits. Most of the tunes build off big vamps. Actually, many of the songs use the same chords. Vaguely resembling modal jazz, the group's interpretations add rich color and flavor to the songs without adding bulk. The bounce of the grooves hint at psychedelia but stay true to roots in gospel.  "Dance to the Medley" pulls together everything that makes the album as a whole great. That song also ends with some fuzzed-out noodling that sounds way ahead of its time.
Grandmaster of the electric bass Larry Graham gets plenty of opportunities to shine. This album, more than any other, showcases his power while still utilizing all his finesse. The rest of the band is on fire as well (unique at the time was a horn section that was part of the group). Dance to the Music shines brightest as the group interacts and builds up the songs by feel.
Not everything is perfect here. The lyrics are at times thin or even a bit hokey. But the group sings along with charm. They seem to enjoy making the music. Listening to it, the fun is infectious. Just listen to the organ and piano on "I Ain't Got Nobody (For Real)" to get a taste of the careening, soulful forces packed into this album.
Many do not consider Dance to the Music Sly's best work; however, it was the turning point. This is still a hugely influential album. Sly gave Miles Davis a copy and Miles couldn't take it off his turntable. Miles wore out the copy and had to ask for another. These sounds were revolutionary to say the least. Yet with such snappy results there is hardly time to waste being critical–just dance to it baby.