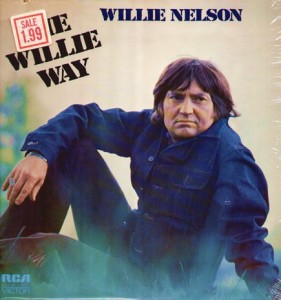 Willie Nelson – The Willie Way RCA Victor LSP-4760 (1972)
---
Willie Nelson's albums for RCA tend to be maligned, as he was catering to the Nashville system and so often those recordings were leaden with sappy string treatments, overbearing backing vocalists, and gaudy steel guitar.  Some fans note that 1971's Yesterday's Wine broke the mold.  But the changes go deeper than that one effort.  In late December of 1970 Nelson's home Ridgetop in Tennessee caught fire, forcing him (and members of his band and entourage) to relocate to the abandoned Lost Valley Ranch in Bandera, Texas for a while.  The move gave him a respite from the pressured atmosphere of the Nashville area, and renewed his ties to his home state of Texas.  Life on the ranch was something of a subsistence, communal one.  Together with Nelson's interest in certain rock phenomena, like the Woodstock and Atlanta Pop festivals, this introduced elements of a liberal rock aesthetic.  Or perhaps they just stirred up things that had circulated in Nelson's band from tours to places like San Fransisco in the 1960s, when they took to wearing flamboyant costumes.
After returning to his refurbished Ridgetop home in fall 1971, Nelson recorded his final RCA sessions.  Among those were preliminary takes of material that would be rerecorded later for Phases and Stages on Atlantic Records.  Although superficially Nelson was back in the Nashville fold, it's clear that his music was different.  The recordings on The Willie Way demonstrate the changes.  A harpsichord on "Home Is Where You're Happy" lends, just slightly, the flavor of psychedelic rock or mod British Invasion pop.  There is a bit of that influence on the reading of the Appalachian folk classic "Mountain Dew" here too.
A lot of listeners skip right past much of the RCA years, at least after Yesterday's Wine, to Willie's efforts on the fledgling country department of New York-based Atlantic.  That is a mistake — forgivable though given the lack of promotion and limited pressings of the albums of this era.  The two albums RCA released from from Nelson's last six sessions in 1971 or 1972 The Words Don't Fit the Picture and The Willie Way are perhaps his very best from his entire decade-long tenure on RCA.  They balance the conventions of Nashville with inklings of forward-looking rock influences.  By this time Willie knew the Nashville approach and was actually getting pretty adept at playing that game, even in an offhand way.  Willie also was actually writing some good songs, like the opener "You Left a Long, Long Time Ago."  His other songs selections, like Kris Kristofferson's "Help Me Make It Through the Night," are excellent too.  The Willie Way may not quite match The Words Don't Fit the Picture (it trails off a bit at the end), but it's still among Willie's best albums from before his commercial breakthrough a few years on in the mid-1970s.