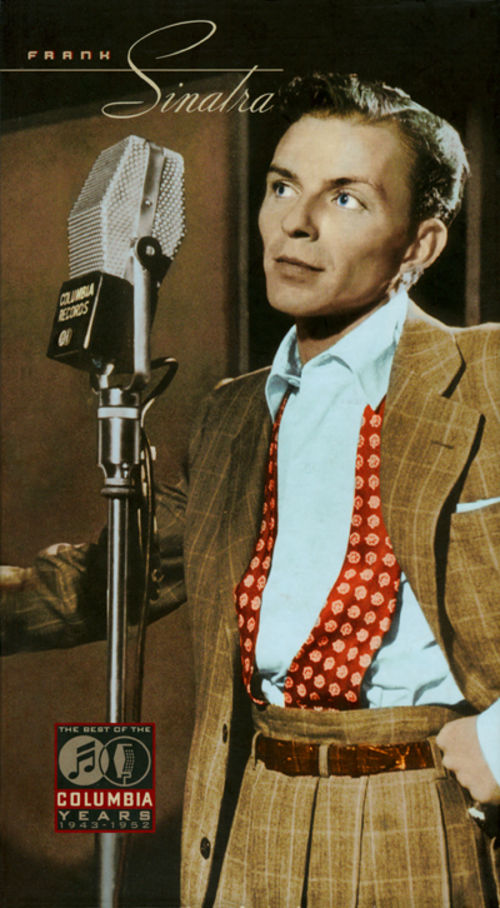 Frank Sinatra – The Best of the Columbia Years 1943-1952 Legacy C4K 64681 (1995)
---
Few singers have established themselves the way Frank Sinatra did.  He is instantly recognizable.  Even people who don't really listen to much music, and certainly not Sinatra, probably still know who he was. He got his start in the mid 1930s as a singer with big bands, and his solo career took off in the early 1940s.  But his later career, once he had crossed over into the movies, and became associated with Las Vegas and the "rat pack", for a long while took precedence in the popular consciousness.  So The Best of the Columbia Years 1943-1952 is an opportunity to go back to Sinatra's formative years.  These are the recordings that helped make Sinatra Sinatra, and set up everything that came later.
There is a nearly cloistered quality to this music, particularly in the earliest songs of this batch.  It is as if that music tries to take a moment in time and encase it in a hermetically sealed vial.  Sinatra and his primary conductor and sometimes arranger of this period Axel Stordahl made music that seems to fit a particular constellation of the period of WWII and the immediate post-war period.  The gentle orchestration with sedate rhythms, with the lightest possible syncopation, horns and strings that appear at the "proper" times in response to Sinatra's vocal statements — it all contributes to a sense of an agreed desire for safety and security.  Although the song lyrics often deal with romance and associated heartbreak, the way that Sinatra and Stordahl deal with those themes is to, in a sense, belittle them.  Heartbreak and romantic loss are trivialized.  In the aftermath of a major war, these are treated as trifling concerns, or at least ones that can be taken in stride.  A dutiful resolve is all it takes to move on from such hurts, or so it would seem from these recordings.  "The Night We Call It a Day" is emblematic of the way these songs assign a proper place to emotion.
On the other hand, the earliest songs lie in the realm of simple pleasures.  There is never a sense of pretension that this was "great" music.  These are meant to be popular tunes, a far echo of "highbrow" European classical music, though at the same time also clearly indebted to a type of orchestrated pop music with quasi-operatic bel canto singing that was still popular two decades or so earlier.  It also is nearly indistinguishable from a great deal of film music of the black and white Hollywood era before the McCarthy hearings.  The orchestration rests on very familiar and recurrent styles.  Typical is a kind of cradling effect, with swooping swells of strings embellished with vibrato.  Hushed vocal choruses back Sinatra more frequently than in the later years too.  The effect is like a velvet-lined case for a luxurious piece of jewellery.  And, make no mistake, the jewel it cradles is Sinatra's voice.
Sinatra is still young across the first two discs.  And he has talent to spare.  His young voice had a confident tone, yet without any sort of brute force bombast or acrobatics that typically accompany confidence.  Take for instance Paul Robeson, who was another of the biggest stars on the Columbia roster in the 1940s.  Robeson had a voice that seemed like it was summoned from primordial depths, bringing with it all the aspirations, pain, suffering and joy of human existence.  An anthropologist took a Robeson recording to a non-western tribal village where the chief was impressed, which is really about the tone of Robeson's voice alone.  The young Sinatra, on the other hand, often came across as scrappy, even waif-like (just compare him on his rendition of a song strongly associated with Robeson: "Ol' Man River").  He seemed to succeed and earn his confidence through wit and ingenuity alone.  It was a practiced sort of skill, something learned.  He embodies the kind of Horatio Alger myth of self-determination.  But that's too harsh.  Sinatra was a tremendously talented singer.  His greatest assets from the beginning were a purity of tone and an impeccable sense of rhythm.  In the earliest parts of his career, these things were deployed mostly for sentimental ballads.  In that setting, he builds dramatic tensions through timing.  But really, it does seem like the occasional tracks with more of a jazzy feel, almost the opposite of the sentimental ballads, are where Sinatra shines brightest.  Jazz syncopation gave Sinatra a broader canvas on which to work out his rhythmic palate.  That was what he emphasized throughout most of the next decade at Capitol Records.
The problem is that much of this music seeks too much enjoyment in artificially limited aspirations.  In this way, this music includes within its vision contradictions.  Sinatra is sort of the emblem for American exceptionalism.  While, no doubt, Sinatra was an exceptional performer, most of his early recordings projects a sense of limiting the field of view to the point that answers appear just a little too easily.
Into the third disc, there are more showtunes and movie musical fare.  They are especially prevalent on disc four.  These songs have aged the worst.  They neither conjure a bygone era nor really contain the power to impress.
It is with the later recordings of this set — aside from the showtunes — that Sinatra seems to find his best voice.  Even with sub-par material like "American Beauty Rose," with hackneyed New Orleans second-line brass band flourishes, the recording captures Sinatra's impeccable sense of vocal timing and his clear-eyed delivery.  He even characteristically summons his deep, booming Jersey accent on the "O" sounds (like in the word "choose").  It was a vocal affectation nearly as iconic as Buddy Holly's vocal hiccup a few years later when rock and roll broke.  "Deep Night", recorded with Harry James' orchestra, with an arrangement by Ray Coniff, points more to what Sinatra would do through the rest of the 1950s.  It is more adult.  There is a jazzy feel, but it doesn't swing hard.  This is an early peek at the Sinatra of Las Vegas.  It conjures the image of him with a drink on the rocks in his hand, surrounded by "The Clan" (the group's own name for the Rat Pack).  These recordings lack the depth and pathos of Frank Sinatra Sings for Only the Lonely (1958).  And nothing swings as hard and easy at his later collaborations with Nelson Riddle: Swing Easy! (1954), Songs for Swingin' Lovers! (1956), A Swingin' Affair! (1957), etc.  But the cocksure swagger of the older Sinatra starts to be felt a little more, particularly when his renowned sense of timing blends seamlessly with a cutting sense of dynamics.  It wasn't just that Sinatra had great rhythmic timing.  He also incorporated dynamics — going between loud and quiet volumes — to soften and smooth his delivery.  This was the secret for swinging hard and easy at the same time.  It was the signature of Sinatra's singing at its best and most recognizable.  And in the later years he used it in a far more condensed and potent manner.  The earliest songs here find him using it on long, drawn out notes (legato), when he holds a note for a long time (sostenuto).  In the later songs he is using dynamics within short phrases, with dynamic changes happening quickly with each syllable, even without legato phrasing.
In the end, this patchwork collection of Sinatra's first decade on his own as a recording star is decidedly uneven.  It lacks the kind of memorable songs he would record in the following decade.  Instead, much of this moves at an almost glacial pace to new styles, with handfuls of songs sounding almost indistinguishable from one another at times.  The average listener will find this four-disc collection to be very much overkill.  A far better distillation of only the best material is found on the singe-disc collection Sings His Greatest Hits (1997).