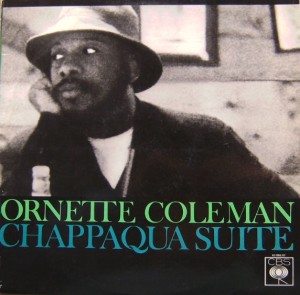 Ornette Coleman – Chappaqua Suite CBS 66203 (1967)
---
Somewhat of an oddity in the Ornette Coleman catalog, Chappaqua Suite is actually stronger than a lot of other mid/late 1960s Coleman recordings.  This was intended to be a film soundtrack, but was never actually used with the film.  It features orchestral backing in places.  Ornette is right out in front where he belongs, which avoids the problems of Skies of America where British musicians' union rules unduly restricted his time in the spotlight.  His playing is good too, even if the sheer length of the performances occasionally wears him down a touch.  There are passages lifted from familiar tunes, though most of this seems new.  The reasons this remains an oddity are twofold.  This was originally a French-only release, which limited its exposure to much of Coleman's fan base.  It also was a double-LP album mastered as four side-long pieces identified just as Parts I-IV, which, combined with Coleman's typical and characteristic meanderings, makes this just too monolithic for some to digest.
What is amazing about this is how Ornette saw a fairly conventional European orchestra as something that could be seamlessly integrated into his musical vision, without compromising anything.  It was this quality that made Ornette great.  Sure, he was the face of the movement to "break away" from the "rules" that governed jazz music.  But his real genius was found in his foresight to break the rules in order to go back the the source of the rules and work with the raw material.  He saw a European-style orchestra as something that could be used in a different cultural setting.  This is music that suggests that everybody can get along, and difference, rather than sameness, can be a central element of a musical vision.  One quality stands out.  This is music of confidence.  Every moment exudes belief it is just another step toward changing the world.  It seems to possess limitless energy toward that end.  It may be only one step in a long march.  But those first few steps are always the most challenging.
At Ornette's revolution, all would be welcome, and there might even be dancing.  Well, there would be good music at least.  Dance at your own risk.