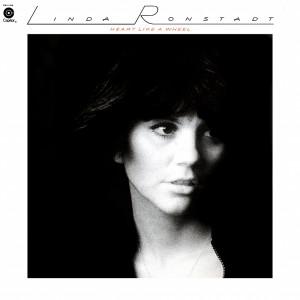 Linda Ronstadt – Heart Like a Wheel Capitol SW-11358 (1974)
---
Heart Like A Wheel is a gift from a gifted interpretive singer. And Linda Ronstadt can sing! She puts all her abilities to use in perfecting her subtle, easygoing style. Her sense of purpose always prevails over the banal concerns of technique. It seems ironic that an album of cover songs is so uninhibited.
Linda Ronstadt sang with a voice that was warm yet incredibly dynamic. Heart Like A Wheel is comforting even when the songs deal with pain and heartbreak. It doesn't seem to matter who writes, sings, or hears them. These are universal and timeless notions. Understanding is as easy as each breath drawn as you listen. There was nothing to prove here. Ronstadt was free to pursue the most vital aspects of her form.
"You're No Good" starts the album with a sultry passion. It sets up the overflowing emotion carried throughout the record. Peter Asher's layered production plays an immeasurable role. It's not obvious just where this album fits into the "scheme" of American pop music. It's kind of everything at once. Even Paul Anka and Hank Williams songs find their way into this home cooked Californian stew.
"Faithless Love" is one of the many looks at a common ailment. Accidental misery and lonely regret come out in a long sigh. Letdown envelops you as inauspiciously as it does Ronstadt. The lovelorn feeling permeates her voice. Riding waves as they come to her, she is willing to follow the currents and powers beyond her control.
The "Heart Is Like A Wheel" arrangement makes every millisecond a awe-inspiring achievement. Ronstadt may only sing and not write the songs, but she makes every one her own. The studio musicians, as on all the songs, commit themselves to the selfless acts that unite the greater whole.
The Everly Brothers' "When Will I Be Loved" is a moving plea for confirmation of faith in love. Linda Ronstadt delivers songs so forcefully it's hard to imagine anything but her longing state. The song doesn't tell a happy history, but she conveys an unshaken belief that she's only asking when. The rhythm carrying the song is just another heartbeat. Who could have possibly cheated and mistreated such a caring person?
Heart Like A Wheel sweeps you under its spell. It really is magical, as it seems to make something appear out of nothing. Linda Ronstadt's voice lasts long after the sound is gone from the air.