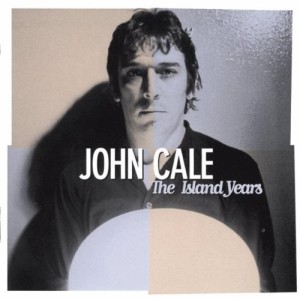 John Cale – The Island Years Island 314524235-2 (1996)
---
John Cale was at the epicenter of much of rock music's development in the 1970s.  Well, to be fair, his influence began in the 1960s, with one of the first and still one of the best "underground" (read: modern) rock bands, The Velvet Underground.  Then he was producing The Stooges' self-titled debut and recording on his own and in collaboration with others.  But his solo career was in full swing in the 1970s, and he continued to produce some outstanding records by others.
After a solo debut (Vintage Violence) that focused on artful country-rock shot through with strong Leonard Cohen influences and another album operating in the realm of modern classical music (The Academy in Peril), he made the gentle Paris 1919.  Then he landed a multi-record deal with Island records and released a trio of albums within the space of about a year.  The three Island records Fear, Slow Dazzle and Helen of Troy–all collected here with additional bonus tracks–have a certain consistency and commonality that makes them ideally suited to being packaged together.  Though each of the albums collected has its own personality.  Fear is the inventive one, with a twisted, arty appeal.  Slow Dazzle is the most conventional sounding–relatively speaking–with a more traditional rock sensibility.  Helen of Troy is the most savage and viscious of the three, with a hard tone laid down by a band well-practiced from performing live with Cale.
Reviewer Patrick Brown described Cale as a "master of mood".  That's absolutely true, but it's also worth noting that on his Island trilogy he specialized in a very particular kind of mood that bore a very special place in the context of its time (very much like Jim O'Rourke roughly two-and-a-half decades later).  Somebody on a wiki wrote that Cale's music in the 70s "featured a dark and threatening aura, often carrying a sense of barely-suppressed aggression."  While Paris 1919 was hopeful and intimate with an emphasis on the nostalgic, the Island trio adapted to times a bit more tumultuous.  There was now a palpable sense of uncertainty.  Nostalgia still played a role (like "Ship of Fools" from Fear), but it now conveyed something lost and squarely of the past, like a new era was upon us and the old ways didn't point the way for the future.  There are plenty of songs here that recall various bygone rock and roll movements, but reconfigured in a punchy and sometimes more unnerving way (like Cale's deconstruction of "Heartbreak Hotel" from Slow Dazzle).  Even when mannerisms of the past are present (like the saxophone on "Darling I Need You" from Slow Dazzle), the sound is never "retro" but more of a transposition, accentuated with heavier bass and a more ominous or wearied tone.  Discussing the songs here, that astute RYM reviewer praised "pretty much any one where he starts screaming."  There are quite a few of those.  Cale has plenty of hard rockers here, most of which build up from a steady beginning to a kind of frenzied, chaotic conclusion.  What makes these so special is the very explicit unraveling that takes place within those songs, something not merely implied.  But even when it seems like any of this music is set to go off its hinges, Cale reels things back a touch.  His pop sensibility always remains in reach.  He was strongly influenced by The Beach Boys (like on "China Sea" from Helen of Troy), and even recorded a Brian Wilson tribute ("Mr Wilson" from Slow Dazzle).  Though in some ways this music might actually be seen as the frayed rock and roll spirit that sits just outside the best of Carpenters' early 1970s oeuvre, now less contained and closer to (or past) the boiling point.
Cale's lyrics are suited to the material.  They are always a little obtuse.  Still, they serve the overall mood, which is given a greater importance than interpretation of the words divorced from the music.
As a producer, Cale's work here is brilliant.  It's never heavy-handed.  There is a warmth but also a clarity to it.  He makes the instrumentals and vocals all very articulate without losing a razor-sharp edge.  It gives all these songs a sense of power and nominally polite menace barely contained under the surface.  Cale was producing other albums in this era like Patti Smith's Horses and (most of) The Modern Lovers' self-titled debut.   Cale would later go on to be a fixture at CBGB's in the late 70s, with harder more direct rock like Sabotage/Live.
These albums aren't "punk" but they make sure steps between a lot of earlier rock and that movement.  This collection captures the sense that whatever had happened in the 1960s was over and conveys the need for something new.  As one other reviewer on RateYourMusic (drifterdk) wrote, "The paranoia, the ennui, the boredom, the restlessness, the drugs, the heavy politics, the terrorism, the wars, the unrest, the dissatisfaction, it's all here."  But it's not just that those elements are here.  Cale masterfully switches between different modes, with a rocker here, a gentle ballad there, a poppy and fun tune there.  There is something in the totality of what he achieves across this trilogy of albums that can't be conveyed in any one song.
This music is vital.  Cale was really on a run at this point, and drugs hadn't slowed him down yet.  Listeners wanting the glossy, happy version of 1970s rock and pop probably will want to pass on this, which gets more to the unvarnished heart of the era.