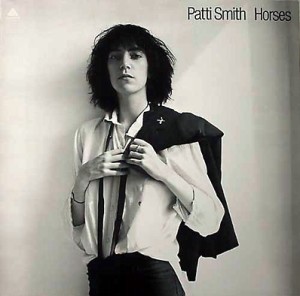 Patti Smith – Horses Arista AL 4066 (1975)
---
Patti Smith was a poet first, and rock musician second. The stiff grip of the opening line, "Jesus died for somebody's sins, but not mine," announces that rock has changed. Soul, reggae, free jazz, euro-classical, and rock all co-exist on Horses. Patti Smith built on a new dialectic that recognized a future world of possibility without any need to destroy the past.
Patti Smith's words encoded a mishmash of desperation and jubilation in three chord rock 'n' roll. After her breakthrough single "Hey Joe / Piss Factory," the true Patti Smith Group came together. Rock critic turned rock star Lenny Kaye played guitar with a knowing yet innocent abandon. Richard Sohl, Ivan Král, and Jay Dee Daugherty rounded out the fine rhythm section. Though the minimalist rock pulsing behind the sing-speak monologues receives little fanfare, its understated beauty is what makes Horses so lovable. The music simply happens (thanks to John Cale's production). More improvisational numbers like "Birdland" drift through a world of emotional struggles. Guest Tom Verlaine adds soaring guitar solos to "Break It Up." New sounds of punk-reggae on "Redondo Beach" and "Kimberly" affirm that the instrumental performances were in fact highly influential. The whole band contributes to the homespun rawness that makes Horses so moving.
The Robert Mapplethorpe cover photo reveals the artist in her element–the Chelsea Hotel scene she romanticized. Patti Smith was both the ultimate New York City icon and iconoclast. Like she rolled out of bed to breath poetry. Whether redefining Them's version of "Gloria" or Chris Kenner's "Land of 1000 Dances," Smith tears through convention with the cerebral precision of William S. Burroughs. She worked from a gritty, immediate level. Nevertheless, as profound as she was, Patti Smith could still write a simple non-romantic love song like "Kimberly." Her spoken word (spouting Rimbaud and James Brown) took a sort of pleasure in spitting on the audience as she slung revelations. Before Smith, few artists dared to infuse raw spoken word with the rudiments of rock and roll (Gil Scott-Heron, Leonard Cohen, The Last Poets, and Lou Reed being among her predecessors). A living drama unfolds with the theatrics of these performances. The hands of a master shape mere substance into the fluid forms of a new aesthetic.
Patti Smith was a feminist (despite what she says to the contrary). Her will forged her work. In a man's man's man's world, Patti Smith acted independent of convention. Her gender did not solely determine her course. She wanted to be a housewife and left rock and roll for a long time (this is significant in that declining to exercise a power helps confirm vested rights and the power to control their exercise). Later, Smith came back to music. Yeah, some of the later stuff is pretentious garbage. Patti Smith still lived rock and roll, the good, the bad, and all that in between.