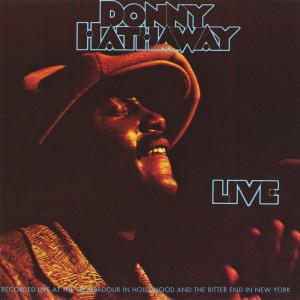 Donny Hathaway – Live Atco SD 33-386 (1972)
---
Recorded at two performances, one on each coast (at The Troubadour in Hollywood and The Bitter End in New York City), Donny Hathaway's Live takes on an intimate small-club feel throughout. The songs recorded on the West Coast would seem to come first. They have a smooth gloss. The songs that seem to come from performance in New York retain more brutal space and gaps. Regardless of where any one song was recorded, the entire collection presents a varied, evocative look at soul music from one of its greatest interpreters.
Donny Hathaway, still in his twenties, was perhaps the most intellectual soul or R&B performer of his day. Well, that may be misleading. He was among the most mature. Depth and clarity are ever-present in his music. The complexity of a song like "Hey Girl", for example, is of no concern. It is effortless. Simple in its relation to the fervor of feelings sought, lost, held, doubted by practically all of us, the song's evocation of an uncertain relationship is an experience in itself. That is the near miracle of the album. Every listen makes the present day seem to stretch out forever.
Carole King's "You've Got a Friend" (popularly recorded by James Taylor) is a transcendent moment. For quite a while, Donny lets the audience carry most—not just some—of the vocals. There is a complete communion between those who began as separate groups of performers and audience. The union happens almost immediately. Hathaway gracefully lays out the first few chords on his electric piano and a cheer immediately rises. Just the first few seconds of that song are enough to restore a sense of purpose in the most lifeless among us. Hathaway's confidence, poise, determination and generosity are evident.
Another spectacular cover is John Lennon's "Jealous Guy". Whimsical guitar and piano riffs punctuate Donny's patient vocals. Like all his music, there is a warmth too rarely found elsewhere. Also, Donny shows he can downplay his gospel roots and still succeed in every way.
"Voices Inside (Everything Is Everything)" stretches out over four movements, with each lending an opportunity for different musicians to step to the front (like guitarists Mike Howard and Cornell Dupree, and "the baddest bass player in the country" Willie Weeks), each movement also lending to a changing emotional interpretation of the song. Certainly the funkiest number on the album, the extended (thirteen minute) performance highlights what an accomplished soul-jazz combo was at work.
Though plagued by severe depression through much of the coming years, the period when Live was recorded was Donny Hathaway's creative peak. In his last years, Donny recorded little. His duets with Roberta Flack from the early 1970s–"Where Is the Love?", etc.–found the most widespread popularity. Still, it will be Donny's own records that will endure longest.
It would be too much to say this is one of the greatest albums ever made. There are no final greatest masterpieces. Contexts change. Even still, hell, Live is as close to the top of the heap as we'll ever know.