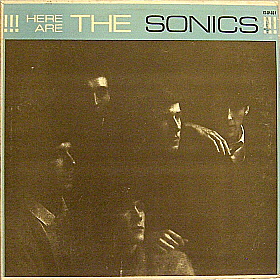 The Sonics – !!!Here Are The Sonics!!! Etiquette ET-LP-024 (1965)
---
!!!Here Are the Sonics!!! is the quintessential garage rock album. The Sonics' songs touch on such divine subjects as fast cars, dance steps, and cruel women. The lyrics are wonderfully forgettable and !!!Here Are the Sonics!!! gets by through sheer force of will. It's actually best that the songs just give way to the frenzied power of the band.  Nuance wasn't even remotely the point of The Sonics.
The band blasts you away with pure rock 'n' roll power. There are no slow ballads here!  Their fuzzy-sounding guitars put a twist on that high energy Little Richard R&B, the big beat rock of Bo Diddley, and the noisy guitar distortion of Link Wray. "The Witch" was the hit single that initially catapulted The Sonics into garage rock lore. It has an eerie organ riff that bubbles under the the driving beat and raucous vocals.  Raw energy and visceral drive are more important to this music than finesse.  This became sort of a template for punk rock a decade later.
Gerry Roslie is a big part of what made The Sonics so special. He did pound out some nice keyboards, but those vocals were something else. The album took some time to record because Roslie could only do so many songs before his voice gave out from screaming. The results far surpassed his abilities on paper.
Though the group only wrote a few of the album's songs, the covers are certainly not filler. "Do You Love Me" is one of the hardest rockers on the disc. "Have Love Will Travel" takes on hometown hero Richard Berry's song with extreme passion. The thundering bass highlights the sound that became so important for bands referred to as "post-punk". Rave-ups of tunes The Wailers' "Dirty Robber" also help the album cook. Letting these hooligans into the studio to destroy these songs was part of some greater miracle.
This album is one of the most important releases in defining the rowdy Seattle rock sound. The Sonics made music that makes you want to turn the stereo to full power, not because you have to but because you crave more of that sound. Anyone afraid their ears may bleed need but step aside. The Sonics went against the grain and liked it; perhaps so will you.