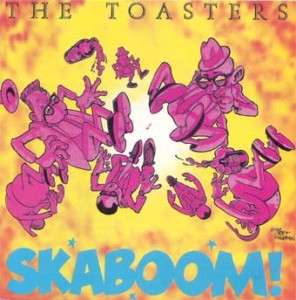 The Toasters – Skaboom! Moon Ska (1987)
---
Many consider The Toasters to be the first important band of so-called "third wave" ska.  This album is probably the best example of how they earned that recognition.  Skaboom! is an extremely fun record of dance oriented cuts.  All things considered, this is probably one of The Toasters' best albums, if not their very best album.  The songs are campy, adolescent and full of silly, ironic posturing. In other words, it has all the things that draw people to this kind of music.
The lively "Talk is Cheap," a staple of the band's shows that was later re-recorded, opens the album.  It's an energetic track that puts on display the archetypical horn arrangement style of third-wave ska. The group had by this time brought a full horn section into the band–perhaps the only feature that distinguished them from most of the second wave/2 Tone bands.  A re-recording of "Pool Shark" follows, giving the album even more energy behind a rollicking organ riff.  Some of the songs then lessen in quality somewhat.  But even through the lesser material, The Toasters hold on to the things that make the album such a blast to listen to.  Solid tracks like "Manipulator," "ABC's," and "Now or Never" keep the album moving at a brisk pace.
What makes this particular album more enjoyable than later Toasters albums is that the band, eleven members strong, seems to be genuinely having fun.  The film noir embellishments, the melodic quotes and the dub-styled toasting all sound fresh, and they are done without any pretension. It wasn't long before The Toasters began dealing almost entirely in cliches, becoming stuck in a sort of delusional self-parody mode.
Skaboom! has been reissued numerous times, with the reissues often adding in the entire Toasters/Recriminations EP and some tracks from their debut album Pool Shark.