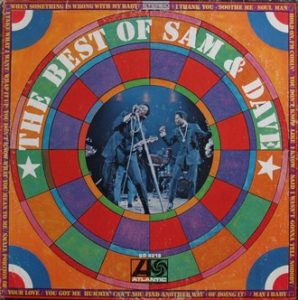 Sam & Dave – The Best of Sam & Dave Atlantic SD 8218 (1969) & 7 81279-2 (1987)
---
I have to admit that I sought out this album (the CD reissue version) after watching the movie The Blues Brothers, in which the characters "Joliet" Jake and Elwood Blues listen to "Hold On, I'm Comin'" and "Soothe Me" from it on 8-Track while riding in the "Bluesmobile".  Originally released in 1969 with fourteen tracks, reissues expanded the track list by a full 50% (with twenty-one tracks).  While the original version had the advantage of being one of the best track-for-track southern soul albums ever, the reissues add some more great tracks — even if some classics like "I Can't Stand Up (For Falling Down)" are still absent.
Nicknamed "The Dynamic Duo," "Double Dynamite," and "The Sultans of Sweat," Sam & Dave were the most commercially popular soul act of their era.  They were a crossover success, achieving mainstream popularity rather than just ghettoized niche genre success.  Decades later, with the vacuity of most pop, it is almost hard to believe that music this genuinely good could achieve such commercial success!
Sam Moore had a higher (tenor) vocal range, while Dave Prater had a lower baritone/tenor range.  It was the contrast between their different voices that really set their music apart.  But many of their best songs took those contrasts even further.  "Hold on, I'm Coming" featured deep, low saxophones plus a contrasting bright, high trumpet, which mirrors the contrast between Moore and Prater's vocals.  The ending of "May I Baby" uses a similar device.  "Soul Man" places the entire horn section in contrast with the sweet guitar of Steve Cropper.  All that made for a useful metaphor for the late period of the freedom (civil rights) movement.  The chord progressions and other aspects of the music drew heavily from gospel.  The recordings benefit from being part of the classic Stax era, drawing on the talents of the house musicians and the songwriting team of Issac Hayes and David Porter.  Sam & Dave's working relationship deteriorated in the 1970s, and the two would barely speak to each other.  That is perhaps an irrelevancy, as their brand of soul music fell out of favor as the world changed around them in that decade.
The Best of Sam & Dave is a great set of music, and it remains one of the essentials of southern soul.