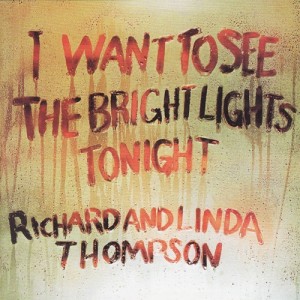 Richard & Linda Thompson – I Want to See the Bright Lights Tonight Island ILPS-9266 (1974)
---
I Want to See the Bright Lights Tonight is a landmark of British folk-rock, and a real treasure from the 1970s.  After leaving Fairport Convention and attempting a solo career with limited success, guitarist Richard Thompson met and married vocalist Linda Peters and the two began working together professionally.  The duo's debut album is a wonderful extension of various currents in British folk music of the prior decade.  That Richard was a singular talent on guitar was already established.  But Linda's voice filled out the duo's sound in a way that becomes quite apparent on listening to Richard's solo work before and since by way of comparison.  Someone once described legendary gospel and soul singer Mavis Staples as possessing a voice that was powerful yet uniquely de-sexualized — something that is unfortunately rarely accepted among female singers.  Linda also has something of that same quality in her voice.  With a warm and home-y tone, she had excellent command of vibrato and subtle rhythmic phrasing.  Richard's fretwork is excellent as always, with mesmerizing solos littered all across the album.  But it's the rich instrumental backdrop and superb songwriting here that make this album so endearing.  Unlike so much folk music that relies exclusively on acoustic instruments in drab and unstimulating arrangements, the Thompsons are backed with a rhythm section and an assortment of colorful sounds and textures, from unsettling double-tracked vocals and punchy horns on the title track and a warm electric keyboard on "Down Where the Drunkards Roll," to a somber concertina on "Withered and Died" and sonorous guitar reverb on "The Calvary Cross."
All the aforementioned factors would make for a very good album.  It is the songs, though, that put this into another category entirely.  Many are portraits of lifestyles, if you will, often on the fringes of society.  "Down Where the Drunkards Roll," for instance, evokes an old-fashioned vision of a community of outcasts like the criminals around docks and ports that Jean Genet immortalized in his autobiographical novel Journal du voleur [The Thief's Journal].  Tales of loss and loneliness in "Withered and Died" and "Has He Got a Friend for Me" strike tender, sympathetic chords.  "I Want to See the Bright Lights Tonight" is the most rousing tune here, recounting the pent-up desire for adventure and unbridled energy lurking in the hearts of nearly everyone caught in the cycle of the working week.  Similar sentiments are echoed in "We Sing Hallelujah" and "When I Get to the Border."  "The Little Beggar Girl" is quintessentially British folk music, revealing hints of the sort of rhythms and connivances that once inhabited Chaucer's medieval book The Canterbury Tales.  A much bleaker vision of those notions is found in "The End of the Rainbow."  Concluding the album, "The Great Valerio" tells of adulation for and ambiguous emotional impulses to emulate a circus tightrope walker — a metaphor Richard would return to in his later solo career ("Walking on a Wire").
It's somewhat unfair that this is frequently described as a dark and depressing album.  Aside from "The End of the Rainbow" and "Withered and Died," this music doesn't adopt a particularly pessimistic outlook on life.  Instead it reflects an almost existential search for meaning, and on close inspection reveals a sense of camaraderie in facing rather universal toils for love and acceptance, told in each song through the microcosms of unique character studies.  The emotional range of the album may not be apparent immediately, but it's there awaiting discovery.
The Thompsons made other great music, but I Want to See the Bright Lights Tonight is undoubtedly their best, one for the ages.