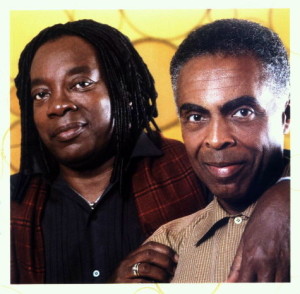 Gilberto Gil & Milton Nascimento – Gil & Milton WEA 857382810-2 (2000)
---
Brazilian tropicalia legend Gilberto Gil teams up with longtime Brazilian pop star Milton Nascimento for Gil & Milton. The results are unspectacular. At times the record is downright boring but not without the occasional gem. As nothing more than a slick commercial album, dredging through the entire album is a chore. This is a far cry from the vibrant music these fellows made in their youth.  The main problem here is the heap of gloomy songs lacking an edge. There just is not enough camp to salvage this one from easy listening hell. There is much better tropicalia/bossa nova type stuff out there than this trite, sentimental crapola.
"Trovoada" is brilliant (by far the best song). It features split songwriting by the duo. On the next cut, the watery reggae on a cover of George Harrison's "Something" spoils the moment. Then drum machines pop up in annoying fashion on "Maria." You may get your hopes up occasionally but those good vibes fade quickly. Generally, the new compositions are the better tracks. Even those better ones hardly deserve a yawn.
Superb individual vocals are wasted. All the arrangements are predictable, save some nice instrumental moments — like Gilberto Gil's accordion on "Duas Sanfonas" and acoustic guitar on quite a few others. The duo almost never sings harmony. They trade verses but in an eerie way never seem to sing together. Vocal recordings happened separately and only came together later on a mixing board, much to the chagrin of listeners.
Without any offense to some fine artists, this is a poor album. At best, Gil & Milton sounds like self-parody. Some of the lyrical impact may be lost on those of us who only speak English, but no lyrics could rescue Gil & Milton. This album is quite a disappointment.