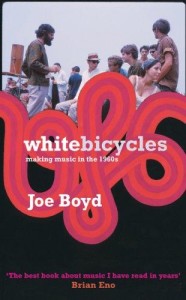 Joe Boyd – White Bicycles: Making Music in the 1960s (Serpent's Tail 2006)
---
Joe Boyd is a music and film producer, and onetime club operator.  His name is all over a lot of curious music from the late 1960s and early 1970s (and less conspicuous music after that), mostly folk, folk-rock and psychedelic rock.  White Bicycles is his memoir of that time.  He describes a trip to Great Britain in early 1965, saying, "I loved the feeling that I was in a foreign place, and the more alien the better." (p. 65).  This works as a concise summary of his musical tastes as well.  Always keen for the most exotic sounds — especially if they can also be labeled "authentic" — he was kind of a collector of musical trophy experiences.  At least, that he how his memoir White Bicycles reads.  He provides only the barest details of anything about his life that isn't a brag, or used as a discrete counterweight to give a more punch to an extended brag — like the story of walking away from the rights to ABBA's publishing before they got huge is really an excuse to claim he was in on the band's appeal before the rest of the world.  But he certainly did rack up an impressive resume of musical acquaintances, record production credits (or co-credits), and scene caché.
As a writer, Boyd is kind of an expert con man.  He has a journalist's flair for witty one-liners and turns of phrase.  He also has a deep appreciation for how the universal can be explained though isolated examples, betraying that universality in a memoir that seems to suggest (implicitly) that everything universal about the 1960s had something to do with him.  It isn't that he lies or exaggerates.  The man was there for a lot of important countercultural milestones, though he should earn no credit or applause for it because anyone with the opportunities and resources that he did should have been obligated to do at least as much.  For instance, he suddenly is helping manage the Newport Jazz Festival, but we read nothing about how he managed to get the job.  We hear about how he stretches his resources and empty pockets when in college, though a moment's pause might remind the reader that Boyd is in an Ivy League college in the first place, with room and board, and still able to travel and devote any earnings toward discretionary travel and musical investments.
Boyd is at his best doing hit-and-run synopses of particular artists and musical sub-cultures, from the sympathetic perspective of someone who "was there."  When it comes to autobiographical details, his accounts are thin and self-serving.  There is no shortage of name-dropping.  Yet that's also the reason anyone reads this book, to find out about the seemingly unending roster of musical luminaries that crossed paths with Boyd at one point or another.  But his little synopses are quite engaging, like one about the music of his teenage years:
"The years 1954 to 1956 were the great cusp, when black music was discovered by white teenagers and sold millions of records. The horrified guardians of the nation's morals feared the underclass world it represented and the miscegenation implied in its rhythms; major record labels hated it because they didn't understand it, putting them at a disadvantage with buccaneering independents [he mentions a few, none from the South, leaving out Sam Phillips at Sun]". (p. 8)
He does sum up the book on a sober point about music in the 1960s:
"The atmosphere in which music flourished then had a lot to do with economics.  It was a time of unprecedented prosperity.  People are supposedly wealthier now, yet most feel they haven't enough money and time is at an even greater premium.  ***  In the sixties, we had surpluses of both money and time.  ***  The tightening of the fiscal screws that began with the 1973 oil crisis may not have been a conspiracy to rein in this dangerous laxness, but it has certainly worked out to the advantage of the powerful.  Ever since, prices have ratcheted upwards in relation to hours worked and the results of this squeeze can be seen everywhere." (pp. 267-68).
This is all true, to a point.  But your frame of reference has to be that of middle and upper-middle class white people.  This book will appeal most if you are one of those too.  It also must be mentioned that the way that things have changed such that the 60s experiences can't be recreated a half-century later just happens to emphasize the rarity of Boyd's experiences, and that privileged rarity is what he plies to his own advantage.
In the end Boyd manages to paint vivid portraits of scenes and incidents from his life. He is nothing if not articulate.  Whether these portraits, and their point of view, is of interest, though, is kind of a separate issue. Boyd doesn't emerge from the narrative as the sort of chum you are likely to find endearing. There is an elitism and off-putting self-importance to much of his chosen narrative.  This is to say Boyd stops short of making any kind of existential realization that the achievements he boasts about are just as silly and arbitrary as anything else, and they stand in the way of the benign co-existence he claims to have fostered through music — in a way, therein lies the seeds of the downfall of 60s ideals.  Your interest will probably peak if you have heard a lot of musical acts that Boyd was involved with: Pink Floyd, Nick Drake, Fairport Convention, The Incredible String Band, Nico, Vashti Bunyan, Chris McGregor's Brotherhood of Breath, etc.