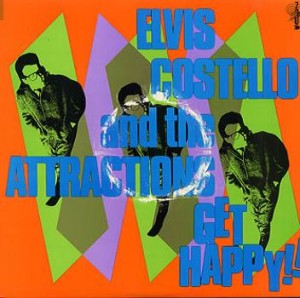 Elvis Costello and The Attractions – Get Happy!! F-Beat XXLP1 (1980)
---
There is a good chance that asking some fans their favorite Elvis Costello album will get the answer: Get Happy!!  What essentially begins as a genre exercise in soul and R&B ends up as an enduring statement that went beyond new wave clichés. It has more energy than seemed possible from Costello. He directs this into a completely honest brew of catchy melodies and soulful backbeats.
This is one of the classic new wave albums because it's also an anti-new wave album. The ancient modernism of the conflicted emotions stands out. This isn't so much a fun pop album. Get Happy!! is about music that you often need to hear. It works upon you. The phrase "Get happy" is a hollow motivational catchphrase. This album wonders why. The purportedly trivial gets its due. Anyone who has ever been sad, lonely, depressed, disenchanted, or anything other than what they want to be, has the needs to hear this album.
"I Can't Stand Up (For Falling Down)" takes the overlooked Sam & Dave classic (penned by Hayes/Porter) someplace new. Costello takes on the song at a double-time tempo. He tweaks a few of the lyrics to his purposes and adapts where needed his vocal style. He emerges with a something entirely more frantic and delusional. Costello wants to escape the inescapable. Sam & Dave sang a slow, bluesy ballad. Costello reinterprets the song where he acts before he thinks as an excuse to avoid his pain. How could he "fall down" at the pace of he sings this song?  His desires are as real as he makes them, conviction his only ally.
Costello was an intelligent hipster. Here he directs his thoughts to the minutiae of life; its illusions fascinate him. The songs don't come to explicit conclusions. Get Happy!! doesn't provide answers. Perhaps the only thing Costello and The Attractions do identify with are old Stax and Atlantic soul sides and some wont to act. His usual cynicism is held in check by the glaring deference to pop music of the past.  So under it all is a love for music, and that love gets put to use.
So with "Beaten to the Punch" Costello has his lyrics as sharp as ever (for example, "if you got a head for figures then you better count me out" is a great line wherever it lies). Hesitation seems to be everyone else's problem but Elvis can't help but implicate himself in the mess.  While he claims to have no choice in these matters, he certainly knows where he wants to end up. The way to get there just isn't what he had hoped for. The tables turn and he's as desperate as everyone else.
Maybe the honesty of this record comes as a by-product of a hasty recording process (think Big Star's Third). That separates Get Happy!! from Costello's other sometimes dubious efforts to reinvent himself. With so many great songs like "Black & White World," "New Amsterdam," "High Fidelity," and "Riot Act," he obviates the need for posturing. This is a last-ditch effort to make something, anything, happen. The record simply isn't calculated for Costello to position himself as some kind of legendary songwriter or rock star. When talented artists make music they feel, on instinct, without over-thinking, it can be unique in all the right ways.  So it was with Get Happy!!