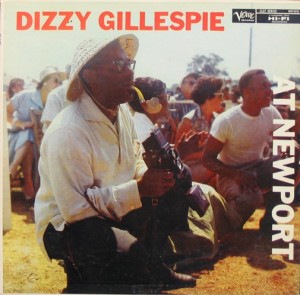 Dizzy Gillespie – At Newport Verve MG V-8242 (1957)
---
At Newport comes from a July 6, 1957 performance at the Newport [Rhode Island] Jazz Festival. As be-bop split into hard bop on the east coast and cool out west, Dizzy Gillespie went his own way. He developed a big band Afro-Cuban style. The bohemian hipster image of the 40s be-bopper gave way to a new, more familial feel.
The opener "Dizzy's Blues" features a drenching blues solo by Wynton Kelly on keys, complete with Dizzy shouting along in the background. There is still be-bop structure present. This is truly a shining example of the classic jazz format. Diz had recently returned from a U.S. State Department-sponsored world tour (to spread American culture), where a young Quincy Jones produced some stunning arrangements still in use.
Dizzy Gillespie was a bold man on the trumpet. He could blast away endlessly in his upper register, as on the Latin boogaloo of "Manteca." Dizzy's talent was so immense that his improvisational style went outside most other players' range (not even the likes of Miles Davis could keep up). His late-50s work showed him exploring both his past and the roots of his people. You get everything here. "School Days" even shakes things up with Diz doing some spoken word/singing.
The CD reissue adds three phenomenal bonus tracks (and I would recommend this re-issue over the original), two of which feature Mary Lou Williams bouncing along on piano. Williams performs selections from her "Zodiac Suite" plus "Carioca." Her career spanned decades and her style constantly evolved. Along with Diz, Williams was one of the great jazz teachers, influencing countless legions of performers. She blends into Gillespie's band effortlessly and if Diz didn't announce it, you would never know she was coming out of semi-retirement. The additional tracks with Williams add quite a bit to the album, by providing complex solos from yet another superstar.
Eighteen-year-old trumpeter Lee Morgan gets some solo time on the bonus track "A Night In Tunisia" (solo time being valuable when you back a legend like Diz). The young Morgan can't cut Diz, but his talent is still obvious. It is stellar songs that distinguish this set. An early rendition of Benny Golson's standard, "I Remember Clifford" mellows the pace of the album. They rejoice, but not without some sadness.
In the heart of the beat movement, Diz found probably the most popular appeal of his entire career. This is Diz still at his peak.