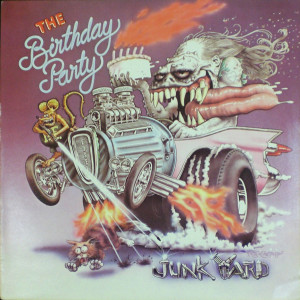 The Birthday Party – Junk Yard 4AD CAD 207 (1982)
---
The Birthday Party reached a peak with Junk Yard. It soars on a pulsing energy that never fades. It is goth rock. It is punk. Frightening rockabilly. Angular funk. Gospel and blues. Demonized cabaret lounge jazz. These and other styles collide in a gruesome, purposeless, and—above all—glorious spectacle. But the darkness in which this music dwells is entirely stable. It is confident, at least. The album is mixed to emphasize the low end and the high end, with little mid-range. There are no compromises.
The Thatcher-Reagan era has, in many ways, turned out to be the beginning of the end (or at least another milestone in the world's continued march towards an easily avoidable doom). Junk Yard plays like The Birthday Party intuitively knew this. The slow groove of "She's Hit" reveals from the beginning that this group was more aware than most. They absorbed the maddening energy of the times, without becoming bound to them. Unlike the living dead of the world, who are modeled on an image of the past, The Birthday Party were in a state of regenerative flux, continually rebuilding something morbidly happy from the decay.
"Hamlet (Pow, Pow, Pow)" is a sleazy literary come-on, and Nick Cave sings, "Where for art thou baby-face." Still, the words come out more like a warning to a future victim issued too late. And yet, The Birthday Party can be trusted. Despite rubbing out simple hopes and pleasant dreams, the band's resolve is never spent. If something on this album doesn't arouse something in you, then you might already be spiritually bankrupt. But either way, at least you will wonder what you are made of.
Barry Adamson guests on "Kiss Me Black" (filling in for the jailed Tracy Pew). His bass blasts to the forefront immediately with mangled tones that bend enough to engross listeners as much as whole songs or albums often do. Matched with Cave belting out, "Hey hey hey hey," the song reveals no intention of relenting. The song is a small representation of all the band was.
Easily the most important rock band to emerge from Australia, aside from The Bee Gees, The Birthday Party later disbanded after recording a few EPs but no further full-length albums. While there is a saying about wicks that burn brightest burning the shortest, that quip doesn't quite capture what The Birthday Party were about. They were a black hole that sucked life and the universe into a seeming nothingness. What that leaves us with is anyone's guess. In a black hole, no known laws of nature apply.