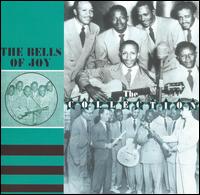 The Bells of Joy – The Collection: 1951-1954 Acrobat ACMCD4207 (2005)
---
Rough around the edges, surely, but the original lineup of The Bells of Joy had talent and an immense amount of potential.  They were semi-pros, holding down regular jobs and choosing not to travel the country on the "gospel highway".  Touring probably would have done them a lot of good, polishing off some of the rough edges heard on some of these early recordings for the Peacock label.  It was actually just one of the original members, A.C. Littlefield, who went on a national tour, taking with him the group The Southern Tones, who performed as The Bells of Joy while the rest of the original Bells of Joy waited back home in Austin, Texas.  The group was reformed numerous times in later years, mixing new and original members.
The group's sole hit of the 1951-1954 period was "Let's Talk About Jesus".  Many people only know them through that one song.  But the group had more good music in them.  Indeed, this particular album closes with eight songs that were originally unreleased–released much later on Let's Talk About Jesus.  Some of those unreleased songs, like the very syncopated "Fare Ye Well" and the super smooth "The Lord and I", are superior to many of the tracks that saw proper release, including some particularly weak B-sides, proving yet again that gospel labels of the 1950s often did not do a very good job recognizing what they had on their hands.
In their early days, The Bells of Joy sometimes aped the styles of other groups.  "Since Jesus Changed This Heart of Mine" sounds a lot like The Soul Stirrers with Sam Cooke.  Yet The Bells of Joy had a somewhat warmer, down-home appeal.  They did not have singers of quite the caliber of the very top gospel groups of the day.  But songs like 1953's "Leak in This Old Building", with a style similar to The Blind Boys of Mississippi with the great Archie Brownlee, are superb anyway.  There is a vulnerability in the early Bells of Joy material that is quite unique, and something that would become a staple of R&B, doo-wop and soul more so than gospel.  Those new to gospel might not immediately appreciate this sometimes uneven set, but fans of the genre may be pleasantly surprised by what this relatively obscure group had to offer.
A final note: this set has good sound quality, something not always found on these Acrobat gospel collections.