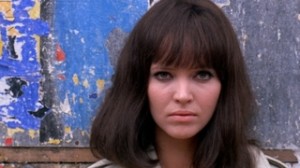 Made in U.S.A. (1966)
Lux Compagnie Cinématographique de France (DVD: Criterion Collection)
Director: Jean-Luc Godard
Main Cast: Anna Karina, László Szabó, Jean-Pierre Léaud
---
As the 1960s moved onward, Jean-Luc Godard's early style gave way to something new and different.  Made in U.S.A. epitomizes a transitional phase.  It is one of the most visually stunning of his films.  Yet the plot, so much as there is a plot, evidences mostly a set of reflections on politics, society and, of course, cinema itself.  Outlines of the script were adapted (without authorization) from Donald Westlake's crime thriller pulp novel The Jugger (written under the pseudonym Richard Stark).  Ostensibly, Paula Nelson (Anna Karina) is a reporter investigation the death of Richard P____ (last name always obscured or not given, but a reference to a communist figure).  She maneuvers through a fictional French public housing project on the outskirts of Paris taking its name from the American East-coast casino town Atlantic City.  Really, much of the content of the film makes allusions to the political scandal involving the French secret service allegedly abducting Moroccan revolutionary Mehdi Ben Barka — a leader in the Third World Movement (for general context, read Vijay Prashad's The Darker Nations: A People's History of the Third World), an associate of Che Guevara and Malcolm X, and someone compared to Frantz Fanon — and then torturing and murdering him.  Godard drew explicit comparisons to Howard Hawks' iconic film noir The Big Sleep as an influence on this film.  Though Godard adds a sort of comic book feel, reminiscent ever so slightly of Frank Tashlin, another Godard favorite.
The tone of the film is really its most striking feature.  It never settles into anything comfortable.  The characters drift in a state of confused inquiry.  They look for clues, for answers, but they find nothing concrete.  It is a very Hegelian sort of approach that requires engagement with reality, only to determine "truth", as it were, in hindsight.  Along the way, just some wonderful set pieces, like the main characters presenting overlapping monologues, Marianne Faithfull singing "As Tears Go By" a cappella in a bar, a tour through a warehouse of Hollywood movie advertising materials, Beethoven blasted out suddenly, a portable tape recorder replaying communist lessons spoken by Godard himself.  And there is color everywhere.  This is a magnificent film for color, commanded as immaculately as Michelangelo Antonioni's Il deserto rosso [The Red Desert].  The only constant is a feeling expressed through a search for closure.  But the search is purposeful.  There are constant reminders of the crassness of Americanized consumerism in France, but before that can be overcome a sort of resolution of the old ways is entertained.  That quality builds a bridge between Godard's earlier works, with their explicit engagement with commercial Hollywood cinema, and his revolutionary filmmaking of the coming years.  For instance, this effort can be said to come closer to embracing feminist elements than Godard's early, somewhat more sexist work.
Filmed in parallel with 2 ou 3 choses que je sais d'elle [2 or 3 Things I Know About Her] this is usually forgotten or considered the inferior of the two.  Yet, it may actually be the better of them.  2 or 3 Things is explicit, almost didactic.  To a tiring degree.  Made in U.S.A. is allusory.  It is a Godard fan's film.
A DVD edition, the first widespread distribution of the film in the United States some four decades after its French release, offers some valuable extras, including a short documentary (On the Cusp) with interviews of two Godard biographers, Richard Brody (Everything Is Cinema: The Working Life of Jean-Luc Godard) and Colin MacCabe (Godard: A Portrait of the Artist at Seventy), who add a wealth of information about the structure, content and context for the film.  They advance theories about how certain plot elements Godard introduced were vaguely autobiographical.  There is also another short documentary (A Made in U.S.A. Concordance) that attempts to catalog many of the the esoteric references to political and social events and persons in the film.  The subtitle translations are described as "new and improved" but they do play somewhat loose with the dialogue, making it a bit more informal and casual than the original French at times.