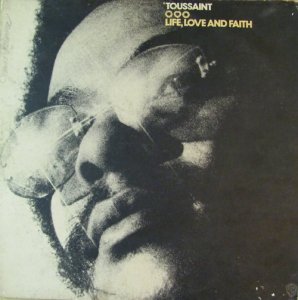 Allen Toussaint – Life, Love and Faith Reprise MS 2062 (1972)
---
Life, Love and Faith is a great soul album that has somehow been overlooked. Backed by The Meters, Allen Toussaint brings a shaky balance to this music. The subject matter is surprisingly different from other soul music. We have insecurities and nagging desires in the open. Toussaint runs through how he deals with three of the great forces linked to humanity—that give the album its title. While few would attempt this album, it succeeds with every moment. It sounds better with age too. Though generally dismissed for some time as a watery producer's album, no description could be more wrong.
The personal songwriting and sensitive recordings come across more like Alex Chilton than Solomon Burke. "Am I Expecting Too Much" masks a song about social equality in terms of romantic difficulties. "Soul Sister" sounds most like a hit (it has shown up on numerous soundtracks). It has black power in the background but transcends simple description with its wistful aspirations. Actually those two songs alone are enough to make this album a classic. But there is more. "On Your Way Down" is almost a southern standard, others have played and recorded it so often. "Electricity" is among the catchier numbers. The adorable melodies and intuitive rhythms support the album's great overarching design. All the songs are personal reflections on matters of fundamental character. Each one shades the unending facets of its universe. Toussaint made use of this music. He put it forth as best he could, as if needed immediately.
Toussaint could hold out his pleadings where no explanation would do. He struggles to overcome the disbelief of others. His vision of Life, Love and Faith tries valiantly to enlighten anyone willing to listen. It's a personal document tinged with the sweaty, impulsive movements.
New Orleans soul has always been shamefully overlooked. Let us not forget that New Orleans largely started soul off, with Professor Longhair, through Little Richard and Fats Domino. New Orleans soul doesn't quite fit into "southern soul," which generally only refers to Memphis or Muscle Shoals, nor is it Chicago "sweet" soul or Motown/Philly. Some people perhaps lump New Orleans soul into other categories, be it R&B, funk, blues, or some miscellaneous other category. That is a mistake. Apart from the general idea that all categories are worthless, one listen to Life, Love and Faith proves it. Toussaint was a huge influence on the entire atmosphere of New Orleans music. As a solo performer, sideman, producer, and songwriter, he touched almost everything (from artists like the Showmen, the Meters, Ernie K. Doe, Lee Dorsey, LaBelle, Chocolate Milk, and more).
Life, Love and Faith is great; it's as good as soul ever got.