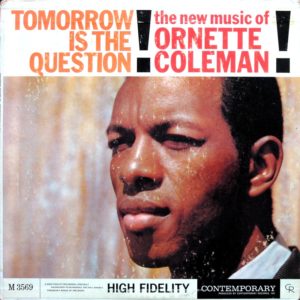 Ornette Coleman – Tomorrow Is the Question! The New Music of Ornette Coleman! Contemporary M 3569 (1959)
---
There is an old saying, "To a hammer, every problem looks like a nail."  This adage goes a long way to explain Ornette's earliest studio recordings.  In hindsight at least, it is fairly clear that he had his musical vision already worked out in the mid-1950s.  His problem — well, one of his problems — was bringing together musicians sympathetic to his radically new ideas and then getting them up to speed performing based on those new ideas rather than being "hammers" banging on nails like they usually did in conventional jazz combos.  He was practicing regularly, in private, with a core handful of players like Don Cherry.  The thing was, while living in Los Angeles, he secured his first recording contract as an offshoot of selling some compositions to Contemporary Records (run by Lester Koenig, who was blacklisted from Hollywood films during the McCarthy witchhunt era).  He began recording with groups that included some mediocre players and some bigger name players brought in just to play recording sessions.  For the most part, Ornette had already met and played with the musicians who would make up arguably his greatest combo, which would record extensively for Atlantic Records, but for whatever reason Cherry and Billy Higgins (Higgins being absent here) were the only ones to appear on Ornette's recordings for Contemporary.  For instance, Ornette had asked drummer Ed Blackwell to play on his debut album Something Else!!!! but Blackwell turned down the offer.  Blackwell later joined Ornette's band in New York City after fleeing discriminatory miscegenation charges in New Orleans.
Shelly Manne on drums sounds just fine here.  Ignore the detractors!  Manne was always one of the most forward-thinking West Coast players.  He has a more open and spare style than Billy Higgins.  Given more time to play with Ornette, I imagine Manne would have gone even further out — though that wasn't to be, because Ornette moved to the East Coast.  Manne nonethless credited his time playing with Ornette as being significant to his later work.
Percy Heath and Red Mitchell, great bassists in their own rights, just go on playing in a progressive yet still conventional style that isn't always enough for what Ornette's music calls for.  Heath and Mitchell are the "hammers" in this band. Sessions with Mitchell took place first.  Mitchell is out of his element, and Ornette felt Mitchell thought he was a bit looney.  Though Mitchell was a noted bop player in Los Angeles at the time, and was responsible for putting Ornette in touch with Contemporary Records in the first place, he clearly isn't interested in Ornette's pioneering musical ideas.  Ornette actually recruited Heath, the bassist for the renown Modern Jazz Quartet, for a third recording session after two with Mitchell were fairly unproductive.  Ornette's recruiting efforts also put him in touch with The MJQ's pianist John Lewis, who was immediately impressed by Ornette's music, and who would end up being the single most decisive factor in Ornette's critical success down the road.  It is not an overstatement to say that Ornette would have been forgotten to history and his best music never recorded if not for Lewis.
Anyway, by ditching a piano, Tomorrow Is the Question! sounds worlds better than the debut (this album was Ornette's second to be recorded, but was released third).  Sure, things got better from here, but this is still a good one.  The opening title track is a really great composition, highly indicative of Ornette's off-kilter yet oddly endearing nursery rhyme melodies.  It starts the album off on a high note.  And the rest of the album is good too.  Actually, it's better than just good, thanks to a lot of great compositions, more confident playing from Cherry (though he would play even more strongly in the future), and, of course, unique and inventive soloing from Ornette himself on pretty much every song.  The recording is crisp enough that even when Mitchell plays just a plain vanilla walk it leave space to hear Ornette's microtonal explorations on his (plastic) horn.  So, Tomorrow Is the Question! pales only in comparison to what Ornette had in store next, but is quite rewarding in its own right.