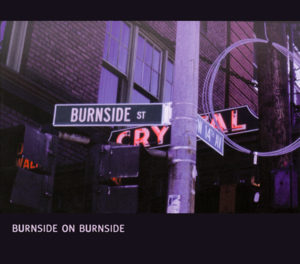 R.L. Burnside – Burnside on Burnside Fat Possum 0343-2 (2001)
---
Slick, polished blues albums are some of the most unlistenable pieces of trash imaginable; this is well known. That bit of wisdom is something RL Burnside certainly has not forgotten.  His albums are sometimes a mixed bag though. His experiments mashing up electronics and blues were marginally interesting. A collaborative punk-blues outing proved inspired. Gimmicks aside, there always was a talented juke joint veteran lurking inside. A man swigging whiskey on the side and strumming out the hypnotic vamps the devil bestowed upon the North Mississippi hill country decades ago. Recorded in Portland and San Francisco, this live disc, recorded at the Crystal Ballroom in Portland, Oregon, scrapes away all but the very essence of RL Burnside. It leaves only the raw and ragged embodiment of modern blues. This is essential Burnside — probably the best place to start in his catalog.
This old man rocks and reels without belying his age. Burnside on Burnside is a gritty little record with attitude. "Skinny Woman" is the best Burnside track you'll find anywhere. It takes a swaggering stance that just might knock you off your seat. Burnside sings of liquor and women by praising them as his salvations. The substance isn't in his words. You have to listen to his moans and what lies in between.
Burnside's classic repertoire here, from "Snake Drive" to "Goin' Down South" to  is"Shake 'Em On Down." Give the band credit for not over-thinking these tunes. They play unadulterated blues and work in a mean fervor. Slide guitar wiz Kenny Brown belts out a sloppy heap of passionate growls. A Burnside compatriot since 1971, Brown is like an "adopted son." RL's grandson Cedric, a minimally-competent drummer, keeps the attitude irreverent and fresh. The drones explode with minimalist textures. On stage they looked goofy with RL in his suspenders and/or plaid flannel, Cedric in his hi-top sneakers and Kenny just looking out of place; but they sound fine.
While all this rambling unleashes itself on the album, you can still picture RL seated to the side, plucking his guitar. What makes Burnside so remarkable is — like Howlin' Wolf — his ultra-modern usage of primitive (meaning old-timey and non-complex) forms. The simple brilliance can make your head swim. These live numbers stick to the group's strengths. Nothing is too unusual, but even "basic" RL Burnside purrs like a vintage Cadillac that never goes out of style.