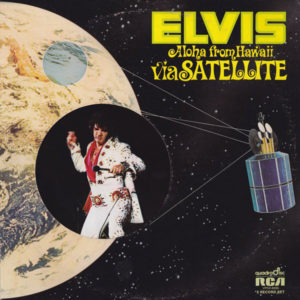 Elvis – Aloha From Hawaii Via Satellite RCA Victor R213736 (1973)
---
Aloha From Hawaii Via Satellite is a landmark in Elvis' career, even if on purely musical terms if falls a little short of other live recordings of the era.  His manager Col. Tom Parker arranged the concert for broadcast via satellite, a historical first made possible by recent space-age technological advances, allowing a worldwide audience to watch the show live.  Well, almost.  The concert took place at the same time as Superbowl VII, meaning it did not air live in the United States.  But that didn't matter.  Elvis performed regularly live all across the United States.  The global broadcast, however, introduced him to Asia.  The event is often cited as a key reason for Elvis' enduring popularity in Japan — a sitting Japanese Prime Minister (Junichiro Koizumi) even visited his Graceland home decades later.
As for the music, the songs track the standard Elvis set list for the time period.  The videotaped performance shows Elvis unnerved.  He seems to be chugging along in some form of drug stupor.  But which one?  Nevermind.  While he may have been a huge star, a show this big and unprecedented surely put even him under stress.  He sings well, though not at his best.  This is big, gaudy, bombastic stuff.  So the songs that lean most heavily on the surging orchestra behind him tend to work to the greatest effect.  This is another fine live offering from a time when Elvis still "had it."  It's long, covers a lot of different types of songs, and walks right up to the line in terms of its kitsch factor.  It's a good album to listen to just about any time.
Due to the novelty of a live satellite broadcast, the possibility of technical difficulties was significant.  So Elvis pre-recorded an entire show (later released as The Alternate Aloha), to be used during the broadcast timeslot if needed.  It wasn't needed though.  Everything went as planned.  There were, however, five songs recorded without an audience appended to the original TV broadcast omitted from this album (posthumously released on Mahalo From Elvis).