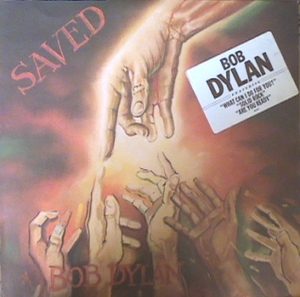 Bob Dylan – Saved Columbia PC 36553 (1980)
---
Dylan's albums from his "christian" period have aged surprisingly well, considering how frequently they are overlooked entirely or dismissed as unworthy.  Saved is definitely the most dogmatic and preachy of the batch, and probably the least regarded.  For sure, the religious content is rather drab.  It doesn't offer much.  But taken in the context of where gospel music was around 1980, this is actually a very fine example of it.  The highlights are "Satisfied Mind" and the title track.  Dylan evokes some of the choir style (reference the "crown prince of gospel" Reverend James Cleveland, The Edwin Hawkins Singers, etc.), which was still one of the most popular styles in gospel, while at the same time giving this a more contemporary rock sound.  [But who would have thought that Dylan would use the riff from The Allman Brothers Band's "Midnight Rider" for "Solid Rock," on a gospel album?]  It works fairly well.
Keith Richards quipped that Dylan only cynically got into his "christian" phase to sell records.  But compared to what Dylan was doing just prior to and just after this period, it's hard to deny that he was quite enthusiastic about this music.  Not even in his later career critical resurgence did his music have the kind of energy it had at this time.
This one certainly is NOT the most compelling offering Dylan has put forth.  But it's a respectable album, and far superior to some of the dross the man would dump on the world a few years down the road.