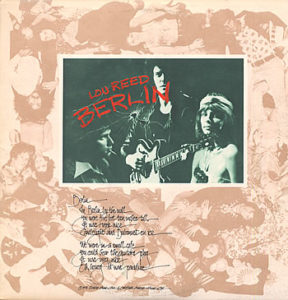 Lou Reed – Berlin RCA APL1-0207 (1973)
---
Continuing Lou Reed's constant effort to describe struggles for transcendence, he delivers a very average album here. Quite universally panned by critics on release, most have since corrected their underestimation of Berlin, some going too far in the other direction to call this some kind of masterpiece. It's not his best work, but it's not his worst either.
Combining brash decadence with bleak misery, Reed crafts an unlikely album. On the surface is over-the-top arena rock and maudlin prog rock. Fueling the fire are Reed's brilliant songs. Coming off the surprise success of Transformer (an excellent but misunderstood album) Lou Reed had the support to assemble quite a studio band including Jack Bruce, Steve Winwood, and the Brecker brothers.
Berlin tells an ongoing story. It is a concept album. The storyline is very easy to follow.  Caroline is the main character. Out of the depths of Berlin nightlife ("Berlin" is Reed's Barbara Streisand song) she falls in love with Jim. "Men of Good Fortune" contemplates the possibilities of the rich and the poor. Reed finds the glory in both without passing judgment. "How Do You Think It Feels" blasts an indignant reply to the first part of the album. After the odd novelty wears off, Caroline and Jim's relationship burns out. Jim abuses Caroline and leaves her with the children. In her desperate struggle to cope, she sinks deep into a world of drugs (notably amphetamines). The state takes her children, "The Kids," as society mocks her existence. Reed fades to Caroline's suicide on "The Bed." "Sad Song" is the climax. Jim never fully grasped the situation. Was Caroline's life for nothing?
The most singularly amazing aspect of Berlin is how Lou Reed turns unreleased Velvet Underground songs (at least, unreleased on proper studio albums) into the bulk of this entirely new story. "Stephanie Says" (a great Velvet Underground song, likely never released because of John Cale's abrupt severance from the group) became "Caroline Says II." "Oh, Gin" formed a good part of "Oh, Jim." It takes remarkable skill to re-work these songs into an ongoing storyline.
These songs stand alone well, but make something more in the context of the ongoing story. I like to think Berlin turned out exactly as Reed planned, but critics wanted nothing of Reed's designs. The production does seem out of place, exactly as the characters do. Rather than a hindrance, incorporating songwriting, production, and all aspects of the album into it's story is remarkable. Few dare like Lou Reed.
This album broke Reed free from his glam-rock period. He now stood alone as the solo artist he always wanted to be. He was not understood yet, but the beauty of Lou Reed is his persistence. His attitude has ruined many possibly great works but it also helped plow ahead with something like this.  This record reveals subtle beauty masked with blunt rock and roll. It does find success more than seems apparent at first.  But it still sounds kind of shitty in many ways.
[For what it's worth, Berlin: Live at St Ann's Warehouse is slightly better, mostly because it ends with three songs not from Berlin.]