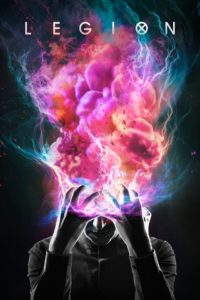 Legion (2017- )
Director: various
Main Cast: Dan Stevens, Rachel Keller, Aubrey Plaza, Bill Irwin, Jeremie Harris, Amber Midthunder
---
Here is an example of television living up to some of its potential.  Legion, a flagship "prestige" show made by some of the largest media companies in history, mostly succeeds.
The show has the production values of cinema rather than of most things on television.  The basic sitcom-style show is presented as filmed theater.  Think of the "filmed before a live studio audience" approach.  There are edits and one or more cameras, but the camera is like a "neutral" observer of a space in which actors work through a script.  In contrast, nearly every (season one) episode of Legion has a long slow-motion sequence, a montage of close-ups of inanimate objects, etc. There are many elaborate sets and costumes, and numerous episodes have scenes filmed on location outdoors.  There is also extensive integration of music to help convey meaning/perspective rather than just set a mood — the soundtrack is most impressive.  These are common devices, but they are more extensively used in cinema than TV.  In fact, most of the series can fairly be called pastiche.  Everything is old, sometimes knowingly old.  But this is not a drawback (copping from They Live is a great idea, for instance).
The cast is excellent.  The characters are good too.  Jemaine Clement as the pretentious wanna-be beatnik is delicious.  Bill Stevens is excellent as the lead, though Aubrey Plaza kind of steals the show in the last half of the first season.  While some of the casting could be called multicultural pandering, it resists such labels — rather than the dubious Commander Chakotay character on Star Trek: Voyager, we have the ass-kicking mutant Kerry Loudermilk (Midthunder).
As to the story, well, it poses some fascinating questions, even if the quasi-resolution of the first season falls back on boring convention and there is a lame "stand by your man" subplot.  Much of the show is set in mental hospitals, and relies extensively on scenes involving psychotherapy sessions.  (Fredric Jameson posited such things as being a key part of an American Utopia).  A central question is whether the main character is insane/schizophrenic or a powerful mutant with magical powers.  The way this is presented across the first five episodes is to suggest that the main character's entire personality is constructed to create a certain appearance to the outside world.  Actually, this parallels a crucial insight of the French psychoanalyst Jacques Lacan!  Personality is an attempt to cover the void of being.  And, as Sigmund Freud long ago explained, there is an unconscious that people cannot directly access.  The last few episodes draw away from all this, turning instead toward a pagan "endless battle between good and evil" motif.  But even in the last episodes, the show openly acknowledges that the main character being encouraged to reconsider his entire life of memories from the standpoint of being a misunderstood demi-god rather than as a mentally defective wreck might well be manipulative pandering or self-serving empowerment fantasy (or both).
The first season does grind to a halt somewhat in episode six, but picks up again in the last few episodes, only to falter as the series bends over backwards to leave the main plot unresolved to allow for later seasons (though it does this less obnoxiously than The Strain, for instance; yet the next season was almost immediately unwatchably bad).  This would have been better conceived as a mini-series than a multi-season series, probably.  But it does deserve credit for being among the more complexly "adult" level comic/superhero/sci-fi productions of its day, even more so than X-men franchise-related feature films.