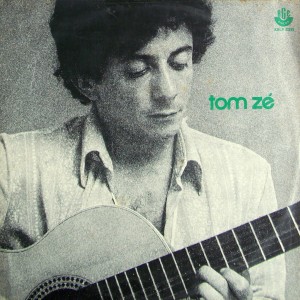 Tom Zé – Tom Zé RGE Discos XRLP 5351 (1970)
---
Tom Zé's second album — and the second of three self-titled albums in a row — isn't always as highly regarded as his first, but it shows him more versatile as a vocalist.  There are some funky rock riffs with more bass and guitar, without the heavy organ of his debut.  There are more ornate arrangements, with lush strings and horns.  The songwriting is, perhaps, less dripping with irony, but the irony and starkly earnest shock humor is still present.  There are plenty of excellent compositions here.  
In an interview, Zé described this time and album as fraught with personal crisis:
"I was in a kind of crisis because I knew at that time that I didn't want to do the popular music from my first album again. At the same time I didn't know what to do and at the same time, João, the guy who freed me from my contract . . . was putting pressure on me to work and do more music. To me, it's a crisis album and I don't like to listen to it very often."
The sorts of crises that he's referring to weren't just personal.  This was still a turbulent time in Brazil.  In his memoir Tropical Truth: A Story of Music & Revolution in Brazil (2002), fellow tropicalista Caetano Veloso described the era this way:
"In 1964, the military took power, motivated by the need to perpetuate those disparities [making Brazil the country with the greatest social and economic disparity in the world] that have proven to be the only way to make the Brazilian economy work (badly, needless to say) and, in the international arena, to defend the free market from the threat of the communist bloc (another American front of the Cold War).  Students were either leftist or they would keep their mouths shut.  Within the family or among one's circle of friends, there was no possibility of disagreeing with a socialist ideology.  The Right existed only to serve vested or unspeakable interests.  Thus, the rallies 'With God and for Freedom' organized by the 'Catholic ladies' in support of the military coup appeared to us as the cynical, hypocritical gestures of evil people. *** we saw the coup simply as a decision to halt the redress of the horrible social inequities in Brazil and, simultaneously, to sustain North American supremacy in the hemisphere."
When Veloso and Gilberto Gil were jailed in 1969, Tom Zé took over hosting the TV Tupi show Divino, Maravilhoso for a few episodes.
This album is still about the manifesto of tropicalismo.  There is the famous line Dustin Hoffman delivers in the film The Graduate (1967); when asked what he's doing, he responds, "Drifting."  Zé is drifting a bit here, but in the best possible way.  He wonderfully evokes a kind of unsatisfied boredom and uncertainty, matched with curiosity and open-mindedness.  There are very poppy tunes, verging on the commercial ("Passageiro," "Jeitinho dela").  And there are ballads ("O riso e a faco," "Me dá, me dê, me diz").  But there is more than that too.  "Jymmy Rende-se" has a tight groove.  The lyrics are playful nonsense,  but that kind of sums up the best of what the album as a whole has to offer.  Some of the other upbeat numbers ("Guindaste a rigor," "Escolinha de robô") are quite good too. And this isn't all just variations on conventional pop/rock forms — some of this stuff is dissonant and weird too ("Qualquer bobagem").
This might not be Zé's most highly regarded album, but it's still up there with his best.  Though it isn't like he's ever really made a bad album in a decades-long career.