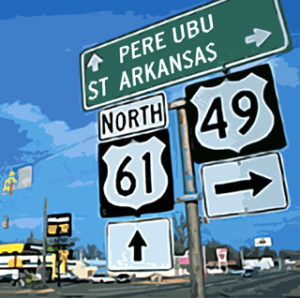 Pere Ubu – St. Arkansas spinART SPART 108 (2002)
---
Approaching its third decade as a band, Pere Ubu sounded surprising close to its late 1970s roots on St. Arkansas.  If "avant garage" has long been the term of choice to describe their style of rock and roll, it remains the right way to describe this album.  As a band, they thrive on the fringe of acceptability.
St. Arkansas is a road album. David Thomas reportedly wrote the words from Conway, Arkansas to Tupelo, Mississippi, from I-40 to U.S. 49 to State 6.  Movement is implied in the songs, compiled from isolated moments and drawn into a surreal reflection of americana, as if passed by in a moving car, in a blur.
"The Fevered Dream of Hernando DeSoto" opens the disc very much in the band's style of old.  But this isn't purely a retreat into the past.  St. Arkansas has gems to offer both newcomers and Pere Ubu's cult following.  At times the album grooves ("333" and the Brian Wilson-meets-Ray Davies sounding "Phone Home Jonah"), while other times it perplexes at a halting pace ("Michele").
Pere Ubu's lineup of the last five years can coax a balance out of extremes. The liner notes suggest: "Most people know that by moving between the two speakers of your hi fi system a point can be located at which the sound seems to lock into place. Ordinarily this is the point that forms an equilateral triangle with the two sound sources.  With Pere Ubu, however, this point has been located directly in front of the right hand source.  There are reasons for this."  If this all seems very deliberate, know that the production on this album is a little raw and hollow.  It's not terrible, but it seems somewhat underbaked overall.
This is a good one, and it is worth saying again that it is probably the closest to the band's 1970s sound as anything since that time — if that's your thing.  Yet it is a notch below the underrated return to form album Ray Gun Suitcase, which has the advantage in freshness and inventive techniques, even if it is less song-driven.