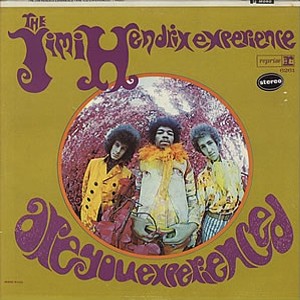 The Jimi Hendrix Experience – Are You Experienced Reprise RS 6261 (1967)
---
The Jim Hendrix Experience's debut album is a great one.  Released in significantly different forms in the UK and US — get one of the expanded versions from the CD era that include all the UK and US tracks, plus the complete early singles (with both A- and B-sides), resulting in more than what either the US or UK original stand-alone versions offered.  There is a strong influence from electric blues traditions, but what makes this album special is how it goes well beyond tradition.  In fact, the confident psychedelic edge throughout the album makes clear that Hendrix and his band are committed to the counterculture.  This album could really only have been made at the specific time that it was made.  It conveys a sense of inevitability, like the counterculture was poised to win and let all the freaks (and everybody else) be themselves, unhindered.  Hindsight shows that over the next fifty years the other side claimed almost all the victories, and from that perspective the hippie vision of the Jimi Hendrix Experience seems almost like a quaint relic.  But there is nothing frivolous about how the band plays these songs, which have that blues feeling but often a kind of macho swagger, curiously put to use in service of less macho notions, all done in a way that is quite earnest in is own way.  This represents the attitude that will almost be necessary if the tables are to turn and the countercultural vision rekindled.
"The Wind Cries Mary" has a dreamy romanticism not unlike Bob Dylan's "Mr. Tambourine Man."  "Purple Haze" is the overtly druggy freakout.  "Fire" and "Fox[e]y Lady" are kind of libidinal rockers, and some of the better known album tracks (released together as a single later on).  Along with "Hey Joe," these are some of the most recognizable rock songs of the period.  They have been played on the radio consistently even decades later.  Yet there is more to the album than just a few highlights.
"3rd Stone From the Sun" is a kind of swirling sonic odyssey, which tends to rob the social status quo of its power by invoking cosmic imagery that places human struggles on just one "stone" in an increasingly accessible solar system (this was the "space age" after all, and this song probably qualifies as afro-futurism).  The blues stuff like "Red House" (only on the UK version), plus "Manic Depression" and "I Don't Live Today" convey a sense of struggle, and a lack of naivety, without succumbing to hopelessness or discouragement.  The perspective is of acceptance of struggle and hardship as part of achieving something beyond present circumstance.
It is the often thunderous — and sometimes sweetly tender or mystical — guitar riffs that separate this from a lot of psychedelic rock of the day.  This doesn't sound like trifling stuff.  It is big, sweeping, decisive, dramatic.  It is also worth mentioning that it isn't just Hendrix that makes this album great.  Noel Redding and Mitch Mitchell make substantial contributions, be it Mitchell's penchant for loose, supple, jazzy drumming that adds dynamism or Redding's steady bass lines that complement without ever detracting from Hendrix's leads.
I guess you could say I'm Hendrix-normative when it comes to rock guitar.  I listened to Hendrix albums extensively as a teenager, and came to accept him as a standard bearer for what it meant to be an excellent rock guitarist.  Looking back, it seems reasonable to take that approach.  There are other ways of playing guitar, inside or outside the rock idiom, but anyone who can play as well as Hendrix (not the same way, but as well) is indeed a talented player.  There is no shortage of opinions claiming Hendrix as literally the best electric guitar player.  But there is no reason to object to that!