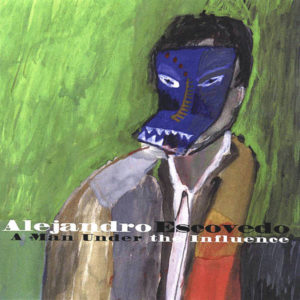 Alejandro Escovedo – A Man Under the Influence Bloodshot BS 064 (2001)
---
A Man Under the Influence is a portrait of the world Alejandro Escovedo knows. It's about Mexican-American immigrants, love, music, and their effects on a man — brilliant in its simple honesty. This is a mellow but broad pop album with lush backing and sweet melodies. A Man Under the Influence is someone wandering the desert dragging his stories with him, and growing along the way.
Often, the sound here is slick and refined. Escovedo's earlier work tended to have a gravelly wallop to it. He still has a sharp warmth to his songwriting but the attack is softer. Their still is a bite, but he can now convey the same themes to a much wider audience. A Man Under the Influence is about as good as anything Escovedo has done, save perhaps Thirteen Years (it also proved to be just about his last pop album before turning towards other things, from string quartets and harder rock). He doesn't have to reach to hold on to touching tales of eccentrics and epics of friends and families.
There isn't just a few great songs on this album; from beginning to end just about every song is a tiny masterpiece. "Rosalie" aches while Rosalie and Joe write letters to each other every day for seven long years, only getting to see each other once each year. "Rhapsody" perseveres in an imperfect world. "Across the River" is perhaps the most grippingly beautiful song. "Castanets" is a full-blown rocker complete with a girl in Arizona who ain't got no rhythm. "Follow You Down" reflects on Townes Van Zandt's profound impact had on Alejandro. Even "Velvet Guitar" adds a personal touch to the work. "About This Love" completes the package, tying up all loose ends.
Alejandro wonderfully orchestrates his band. The interplay of strings and his guitar weave exquisite textures into the songs. If there is any fault to the album, the pedal steel guitar is lain down a bit too thick at times. Such a minor fault is hardly a drawback.
Escovedo's melodies are strangely endearing. While he's not pushing heavy hooks, the songs stay with you. His words match his music, driving them deep into your memory. This is a durable album of remarkable beauty. Alejandro is a true master, and A Man Under the Influence is one to earn him the fans and glorious praise he so deserves.