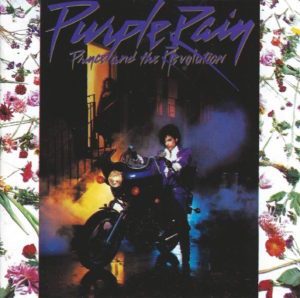 Prince and The Revolution – Purple Rain Warner Bros. 25110-1 (1984)
---
In the All Music Guide, Stephen Thomas Erlewine wrote that David Bowie's The Rise and Fall of Ziggy Stardust and the Spiders from Mars had a "grand sense of staged drama" and that "Bowie succeeds not in spite of his pretensions but because of them . . . ."  The same could very well be said about Prince's most acclaimed and best-selling album (over 20 millions copies), Purple Rain.  This was the soundtrack to a movie of the same name, which some say was inspired by Samuel R. Delany's novel Dhalgren.  Some of the songs were recorded live ("I Would Die 4 U", "Baby I'm a Star" and "Purple Rain"), with later overdubs.
Purple Rain just appeals to so many people.  There is something for the freaks, something for the squares (aside from the prudes).  That wide appeal should not come as a surprise.  This is basically a perfect album.  Sure, it might be hard to find anyone picking "The Beautiful Ones" as his or her favorite, on an album that also boasts "Let's Go Crazy" (a rock-gospel party anthem), "When Doves Cry" (an abstract, minimalist pop stunner without a bass line), and "Purple Rain" (a monster ballad to end monster ballads).  Not only is there is no filler here, every song is great.  It certainly helped that Prince was a prolific songwriter.  He had about 100 songs lined up for the film, according to director Albert Magnoli, who had to cull that down to what worked best.  The photographer Robert Mapplethorpe once mentioned in a 1977 interview, "It takes me a good week really to decide what negatives and that's half of taking pictures, is the selection.  *** And the framing is very important."  These are analogues to song selection and album sequencing for music.  These things do put in perspective what it takes to make something like Purple Rain.  A handful of decent songs is simply not enough.
Prince wasn't exactly an unknown before this album and the movie — from 1979 to 1983 he had even appeared on television a few times — but they were what made him a worldwide superstar.  His band The Revolution also played a significant role, with Wendy & Lisa noted for making key contributions.  Prince became something of an egomaniac as a result of his fame.  Mapplethorpe also said in that interview that all artists he knew were egotistical.  This perhaps says something about what it takes to want to put one's self in the spotlight.
There isn't much to say about the music itself that hasn't already been said so many times over.  But this album still holds up decades later.