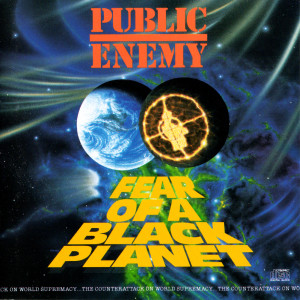 Public Enemy – Fear of a Black Planet Def Jam CK 45413 (1990)
---
Fear of a Black Planet is still considered a watershed hip-hop album.  It was meticulously sequenced.  At a time when cassette tapes were a common format for releasing commercial musical recordings, this album was put together so that each side was essentially the same length (down to a matter of mere seconds), so that there was minimal silent runout at the end of one side of the tape (a byproduct of having sides of unequal length).  The use of non-musical recordings also took a big leap here.  Public Enemy had already done some of this on It Takes a Nation of Millions to Hold Us Back, but now the skits were more elaborate and the excepts from mainstream media commenting on Public Enemy ("Incident at 66.6 FM") were extended and clearly positioned to coincide with the provocative messages of the new songs.  These weren't just isolated songs thrown together haphazardly, like in the early days of LP records when 45 RPM singles still held commercial dominance.  This was a cohesive album-length statement.
The band's popularity was at an all-time high when Fear of a Black Planet dropped, thanks in large part to a hit song, "Fight the Power," used in the Spike Lee movie Do the Right Thing and released as a single and soundtrack cut during the prior year.  Lee also directed a music video for the song — this also still being the height of popularity for MTV and music videos as promotional (and artistic) devices.  It is one of the most blunt statements of what the band's music is about.  The thundering, irregular bass line, like a modern Bo Dilddley beat, is set against a metallic wash of noise, and an array of disjointed drum beats.  There is scratching and little snippets of vocals and keyboards too.  The lyrics go a little overboard, but they make a point that is not to far off from what the #blacklivesmatter movement would be about decades later.
Just to give a sense of what Public Enemy's music meant around this time, here's a story from Boots Riley of The Coup in Tell Homeland Security — We Are the Bomb (2015):
"A woman named Rossy Hawkins and her two twin sons who were eight years old got beat down, bloodied by the police in the Double Rock projects [of San Francisco].  The neighborhood immediately came out, hundreds of people, and surrounded the police.  What had happened a week or two before was a guy had gotten beaten up by the police and been taken in the police car and driven around until he died — because they didn't take him to the hospital.  So people wanted to get Rossy and her kids away from the police and take her to the hospital because they feared for her life.  So they surrounded the police, and the police got scared and started shooting up in the air.  ***  And everybody ran away.  But at a certain point everybody turned around.  They turned around and came back, got Rossy and her kids away from the police, and sent those police out without their car.  The car was turned over.

"So two things.  One, none of this was put in any mainstream newspapers or anything like that the next day.  ***  And the other thing that happened is that what made everyone turn around was this:  It was the summer of 1989, and the number-one song on the radio was 'Fight the Power' by Public Enemy.  And somebody started chanting 'Fight the power, fight the power, fight the power.'  And everyone said that then is when they knew that they all had a job to do.

"When that story was being told to me that day is when I realized the power that music could have, that hip-hop could be a rallying cry that consolidates our ideas into action."
As inspiring as this was to Boots Riley, Public Enemy were (rightly) perceived as a threat to an established system of oppression.  Touring in late 1990 in support of the album, PE appeared at Chicago's Aragon Ballroom in late December with rock band Sonic Youth opening.  Following the show a police riot erupted.
Public Enemy was, for the most part, still a large collective at the time that Fear of a Black Planet was recorded and released.  Hank Shocklee had helped work up a lot of the songs on the album, some of which had percolated for years before being recorded, but he wasn't directly involved in the production for the album.  It is still an album made in his style, with some constraints and omissions with regard to his predilections for unconstrained raw noise and atonality.  But given his lack of involvement, the name "The Bomb Squad" was coined as the production credit for PE recordings.  Calling the production team by that name obscured — quite intentionally — who was really involved.  Although a conscious strategy by Chuck D, this became kind of a contradiction in Public Enemy's message.  They seemed like hypocrites by deceiving fans this way.  Yet, they still delivered some amazing songs.  Hank's brother Keith stepped up.  He wrote "Brothers Gonna Work It Out," one of the band's best songs anywhere.  Professor Griff had also been booted from the band after a media dust-up about anti-semitic comments (despite his lack of involvement, his photo appears in the liner notes).  He would return in the late 1990s though. This was another semi-hypocritical move by the band.  Rather than stand together, and assert that Griff was not anti-semitic but rather made a mistake when caught off-guard as the result of typical anti-black "gotcha" journalism — during the black power movement journalists would often quote only the one extremist statement made in passing during hour-long speeches, to try to discredit black leaders with much to say.
The departures of Hank Shocklee and Professor Griff would have a big impact on the band in the coming years.  But for a time, inertia (and the efforts of the remaining crew) kept the band going full speed.
This may not be It Takes a National of Millions to Hold Us Back, but nothing is, and this comes as close as anything.  Well, truthfully, albums like this didn't come along much in later years for one glaring reason.  A legal crackdown on sampling arrived just after Fear of a Black Planet, which effectively ended hip-hop of this sort — for instance, by some calculations, the cost of royalties (a contested topic by itself) for the samples on It Takes a Nation of Millions to Hold Us Back would have meant the band (and its label) would lose over $4 (US) on every copy sold.  There was nothing inevitable about the sampling crackdown, which could have been ruled a "transformative" fair use, and therefore not copyright infringement.  In the end, the legal battle was political.  The courts sided with the "vested interests" (to use economist Thorstein Veblen's term), meaning that what was effectively a new and unprecedented art form would be subordinated to the interests of self-important has-beens, greedy absentee owners of intellectual property rights who own large back catalogs of recordings, and lazy heirs and estate trustees.
"911 Is a Joke" was the song Flavor Flav delivered for the album.  It might be his very best.  His rhythm is impeccable.  He delivers his lines with his usual prankster humor, though the subject matter is actually incisive social commentary (about public emergency services being withheld from or limited in black neighborhoods for racist reasons).  Flav delivers "Can't Do Nuttin' for Ya Man," which is a good song that occasionally shows up on compilations but lacks the benefits of the social commentary of "911 Is a Joke."
"Welcome to the Terrordome" (probably a reference to the 1985 film Mad Max Beyond the Thunderdome) is one of the harder-hitting tunes.  A looping, siren-like wail drones on through much of the song, setting a kind of baseline level of aggression.  Chuck D sounds absolutely fierce on the mic.
Fear of a Black Planet comes across as a very premeditated sort of album.  There is nothing that happens on this record that isn't planned and then executed precisely.  It can be a bit exhausting, but it is just as exhilarating.