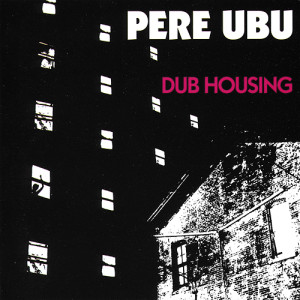 Pere Ubu – Dub Housing Chrysalis CHR 1207 (1978)
---
Pere Ubu was a remarkable band from an unlikely place. Hailing from Cleveland, Ohio, they created some of the most inventive music to come from the punk movement. While most groups remotely comparable at the time would be expected to come from England or New York, Pere Ubu almost single-handedly kept cutting-edge rock and roll alive in the Midwest (along with Debris', and others). They emerged,along with patent punk stereotypes Dead Boys, from the demise of the queen mother of all cult bands, Rocket From the Tombs.
Cooperative performance and arrangements distinguished Pere Ubu from their ancestral roots. Tom Herman's amazing guitar work blends seamlessly with the rest of the group. Sometimes shaded by psychedelia, the atonal barrage works outside typical rock & roll form without losing the spirit. Pounding electronics massage thick beats. If rock is truly dance music, Pere Ubu can still satisfy. They go so much further though. Everything is a statement.
Singer David Thomas towers like Sleepy LaBeef and wails like Captain Beefheart.  Despite a limited vocal range, he did make use of every bit he had. Lyrics — the usual downfall of Midwestern bands — are legitimately interesting.  Something simple like drunken sailors missing their boat on "Caligari's Mirror" is insightfully recast as a tale of inescapable waiting and an unbreakable connection to worldly moral disease (giving the Dr. Caligari folk tale echoes of Samuel Beckett). Without abandoning Midwest flavor, Pere Ubu works magic with their experience. Adopting a foreign persona is just unnecessary.
Dub Housing is often considered their masterpiece. Generally dark, a fairly constant wackiness avoids total bleakness. Old-fashioned rock and R&B crops up. It is more abstract than their debut album. Goofier. Weirder. Their take on "Drinking Wine Spodyody" is strikingly angular and dissolute. Allen Ravenstine's musique concrète manipulations are at their peak power. "I Will Wait" and "Blow Daddy-O" use the space of kraut rock in an American style. "Ubu Dance Party" is lively. It stays true to the spirit of old soul dance singles yet inverts the typical dance rhythm.
Pere Ubu played rock and roll in all its glory. They knew the pressure points and inner structure, well enough to bend the American rock demon to their will.  Unlike punk bands they destroy nothing. They leave rock & roll intact, reformed. Despite recording for a major label, Pere Ubu was largely a cult phenomenon. Their impact was as great as rock and roll ever produced.