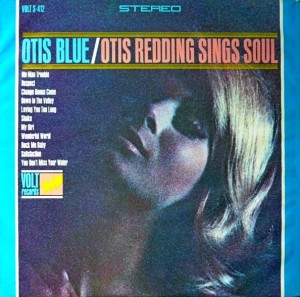 Otis Redding – Otis Blue/Otis Redding Sings Soul Volt S-412 (1965)
---
"When you can do the common things of life in an uncommon way, you will command the attention of the world." – George Washington Carver
Otis Redding sang songs about the common things of life. He called up many sorts of feelings, but he always sang in response to common things and shared human experiences. What set Otis apart was his deep sympathy for all the good there could be in the world. His stuff, even with hard-times blues feelings, had positive emotion behind it. The context was familiar but Otis' soul feeling had a romantic precision — quite the same exceptional insight found in the portraits Vermeer painted. He always located an incorruptible goodness at the foundation of every one of his songs.
Only three originals make the album, but they are each classics. "Ole Man Trouble" has the plodding organ of Booker T. Jones in the background with Steve Cropper's guitar lacing its way around the melody. Aretha may have later taken "Respect" for her own, but Otis still belted out the original nicely.
Otis really grew out of the frenetic Little Richard school of R&B, but was a also great admirer of the smooth crooning of Sam Cooke. Here Otis unleashes three songs from his Cooke repertoire. "Change Gonna Come" has a muggy intimacy that swells around every aching hope. Al Jackson, Jr.'s drums add heart to the song's soul. It's a rendition that would have made Cooke proud.
The other covers Otis includes make sure the album is solid throughout. "My Girl" is a tough song to pull off with less than five Temptations, but Otis was up to the challenge. The Stones' "Satisfaction" is a song practically written for Otis to sing. This gritty, driving take is one of the best on wax. Otis sings in a fervor that perfectly compliments the rumble from "Duck" Dunn's bass. Solomon Burke's "Down In the Valley" has The Memphis Horns dishing their whimsical best through some taught harmonies.
Southern soul out of Stax records in Memphis (Volt was a Stax imprint) had the do-it-yourself charm of letting the performers' personalities come through. The point was to reach for what mattered. Few, if any, other soul singers could reach as deep as Otis. He knew how to pull out an exasperated cry whenever needed. Otis had instincts that can't be taught. Being from an uncommon kind of talent, his singing on records like Otis Blue/Otis Redding Sings Soul still commands attention.