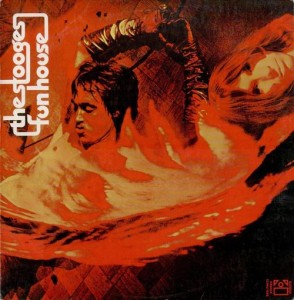 The Stooges – Fun House Elektra EKS 74071 (1970)
---
This album kicks you where it hurts and begs you to like it.
The songs speak for themselves. "Down on the street," with its bluesy bass vamp, is one of the best album openers you can find. Titles like "loose," "t.v. eye" (twat vibe eye), and "dirt" are not songs for your mother. The album progressively cuts loose as side two ends.  "1970," a reprise of "1969" from their first album, shows dramatic changes in one year's time. Steven Mackay comes in on sax, with solos outside almost anything previously heard in rock.
While none of these songs have radio appeal, most stretching out for four to seven minutes, this is one of those rare perfect albums. It seems to capture the craziness of a Stooges show. If you aren't provoked, shocked, or insulted you must be in a coma. This music represents a side of America most people choose to ignore or refuse to acknowledge. The nihilistic lyrics succinctly codify urban disillusionment circa 1970.
Fun House is intuitive music, not some academic experiment. The sound is untouched.  Ron and Scott Asheton bash out scathing but fluid noise on their instruments. Iggy Pop's vocals ooze through the murk, often bursting into powerful screams. Almost like a trance, the Stooges smash ahead without regard for technique or tradition.
Despite being the most powerful and trashy album ever made, Fun House holds up well next to Ornette Coleman or John Coltrane. Iggy Pop had a jazz ideal in mind without knowing how his band would get there. In a way, the Stooges' nominal lack of technical prowess allowed them to do what hindered even some jazz greats. Don't assume lack of skill lessens incredible talent, because technical skill is irrelevant to the musical statement. On that point, many of the same riffs repeat throughout the album. All rock and roll repeats the same riff structures anyway. The Stooges simply use an honest approach that makes no excuses.  1970: The Complete Fun House Sessions later proved that the Stooges refined the songs from a loose live set, to a concentrated statement of their identity.
Recorded on a visit to Los Angeles, Fun House was the Stooges' last chance to record something that would sell. The title, Fun House, comes from the old Ann Arbor frat house the MC5 and Stooges used as a commune for rock and roll freaks. The record, of course, did not generate sales and the band broke up (luckily, the Stooges re-formed to later record Raw Power). Producer Don Gallucci deserves credit for not leaving any signs he worked on this album.  Only the band's raw energy comes through. Any overdubs are brilliantly concealed, creating an energetic and totally improvised feeling. In contrast, the Stooges' great debut album, produced by John Cale of The Velvet Underground, sounds at times more like a collaboration with Cale than a pure Stooges effort.
Fun House is trash achieved. It plays like a soundtrack to high school shop class. Young punks who cruise main streets each night, all over the country, have this music in mind if not on their stereo. All three Stooges albums are classics, but this rises to the top as the purest documentation of their existence.  It is simultaneously a raw statement of sex/drugs/rock'n'roll and a fluid masterpiece of experimentation. Like it or not, this is one kind of American culture at its finest.