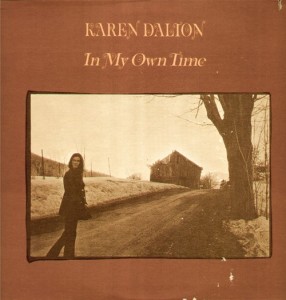 Karen Dalton – In My Own Time Just Sunshine PAS 6008 (1971)
---
Harvey Brooks brought Dalton to the studio with a very professional studio band and recorded her singing a selection of contemporary songs.  Brooks' band plays in the warm style of a lot of folk-rock and East Coast singer-songwriter stuff of the day.  But the thing is, the whole band sounds thrilled to be performing with the unknown Dalton.  Rather than just her usual, limited repertoire of acoustic rural folk — though a version of her signature "Katie Cruel" is here, along with the traditional folk tune "Same Old Man," the performances reminiscent of her posthumously-released demo and live recordings — she's mostly performing something akin to a "top of the pops" panoply of soul, rock and blues.
At the risk of sounding like a new-age cliché, Karen Dalton's voice and her music more generally are life-affirming.  Her voice is inimitable, with its constant cracking and slightly swallowed warble her phrasing is staccato and unusually shifting even as she sings as smoothly as she can.  In a way, she is someone with a voice that in every manner seems antithetical to everything that commercial music is about.  And yet, it is as endearing and irrevocable as any in music.  People compare her to Billie Holiday, with good reason!  There is something irrepressible in her style.  The opener, "Something on Your Mind," is one of the highlights, on an album without any obvious weak points.  She sings, against a relentless, almost severe bass guitar strum, tangly, vexatious electric guitar, some cautious steel guitar and the timidly melancholy histrionics of a bowed violin, "You can't make it without ever even try___in' / something's on your mind isn't it?," and her voice cracks irretrievably amid the word "trying".   This is as perfect a moment in music as the fragile human condition can offer.  Full of failure, epic simplicity, confused and earnest hope, and, still, a yearning for connection and understanding.  The song takes in the simple pleasures that come while looking to grasp what is on this someone else's mind, an unstated, enigmatic something outside oneself.  If the album ended there, it would already be something.
Up second is a soul song, "When a Man Loves a Woman."  There is steel guitar mixed with conventional R&B horns, and a vocal accent developed well outside city limits.  Karen's voice is clipped and cracking again.  She's singing a song completely outside her range, or so it seems, because she winds up making a rather daring argument for forgetting the idea of "range" entirely, and accepting every attempt to communicate on one's own terms.  The next song, "In My Own Dream," has a walking groove on bass with a thundering piano, and a more sleepy, hushed vocal from Dalton, punctuated by quickened vibrato embellishments.  Another punchy soul number, "How Sweet It Is (To Be Loved By You)," with a disorganized "gang" vocal chorus from the band, interrupts what otherwise was almost becoming a gloomier patch in the album, before the second side take on a more country-inflected repose, once again broken up by an R&B number ("One Night of Love").  If the second side of the record is more sedate than the first, "Are You Leaving for the Country?" is an excellent closer.  Dalton was part of New York City's Greenwich Village folk scene for a while in the early 1960s, but left for a more subsistence existence, living outside Boulder, Colorado in a mountain shack for a time.  So this idea of a connection to something outside urban life, with its brisk pace and endless fads, held a strong influence on her life, which did not depend on the city.  And yet, the format of In My Own Time pairs Dalton with the trappings of contemporary pop music, from bustling music centers.  She is engaged with something different, a musical backdrop that is commonplace yet originating from someplace outside her own cultural background.
This is an album that is like an old friend visiting, someone who has no reason to put on appearances.  Karen Dalton sings with no ambitions of any kind of fame.  This is a bit like politics.
"The major problem — one of the major problems, for there are several — one of the many major problems with governing people is that of whom you get to do it; or rather of who manages to get people to let them do it to them.

"To summarize: it is a well-known fact that those people who must want to rule people are, ipso facto, those least suited to do it.

"To summarize the summary: anyone who is capable of getting themselves made President should on no account be allowed to do the job."  ― Douglas Adams, The Restaurant at the End of the Universe
The solution in Adams' novel is to make somebody rule the universe without them consciously choosing to do so.  Dalton may not be unaware of what she was doing in the recording studio, but she was coaxed there to a degree.  As a result her attitude is shorn of the hangups that hold back many singers concerned with being famous, or simply within to forcefully impose themselves on listeners.
Without a doubt, In My Own Time is an album listeners will likely either love or hate.  For those who bother to love it, chances are it will remain a special experience bringing out warm, familiar feelings with each repeated listen.