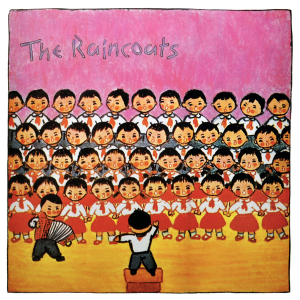 The Raincoats – The Raincoats Rough Trade ROUGH 3 (1979)
---
The Raincoats' debut album is about being at a certain place in life. It captures a certain feeling. It isn't a feeling that everyone can relate to, but the Raincoats delicately paint it with crafty precision. The Raincoats is ominous without the pretense that normally accompanies such works.  This is an album of distraction. Yet, it is effective because the 'Coats readily admit this. The essence of the feeling is like opting to play hopscotch instead of being depressed. There is a careful avoidance at work. Darkness may be all around but there isn't any time for it with such amusing diversions.
The focus here is on triumph. The Raincoats' major contribution was combining a deep-seated, gut-level awareness with a generally upbeat attitude. In terms of songwriting, they created modern folk stories. Fairytales. The Raincoats work more from daydreams than reality. You could even call them precocious. "Life on the Line," particularly Vicky Aspinall's violin, has that humorous Bo Diddley strut to it. And guest Lora Logic adds her sinuous, throbbing sax to "Black and White." Every part makes so much intuitive sense. They pull together all the right elements. It's that spice they add, though, that makes The Raincoats so hard to put aside.
You have to look at The Raincoats in connection with musical collectives like The Slits to understand what important contributions The Raincoats made. Though they were an all-girl group by the time they recorded, they didn't start that way and that probably wasn't even their intent. They did end up with a sound far from the punk stereotype. The folk-influence vocal harmonies confirm that. Since this album had little success on release, most people have heard Nirvana's version of this sound first (perhaps recognizing the 'Coats from Kurt Cobain's liner notes homage). The Raincoats' debut is the very sound that inspired countless bands through the 1990s.
The Raincoats can fool you into thinking they are just a fun little band playing stripped-down rock songs. Don't get tricked into thinking so narrow mindedly! Actually, there are no traps. The Raincoats were a pretty inviting band that only slowly revealed their nature. You could talk about how their elemental melodies allowed greater shading with harmonics and rhythms, but this is unnecessary to enjoy the 'Coats. They were out to make great music, and they are completely unguarded on this recording. Masters of the obvious indeed. With this debut, The Raincoats were off to a great start.