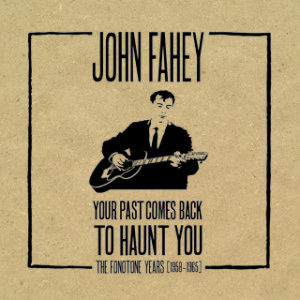 John Fahey – Your Past Comes Back to Haunt You: The Fonotone Years [1958-1965] Dust-to-Digital DTD-21 (2011)
---
A collection of material recorded for Joe Bussard's Fonotone label in Fahey's early years.  Fonotone billed itself as the last label issuing records in the old 78 RPM format.  There is a documentary about Bussard, a well-known vintage record collector, were he mentions buying old 78s off people and paying them a "fair price," in other words he attempts an apology for paying these folks far less than what he thought the records were worth.  Anyway, as recounted in the opening interview on this set, Fahey would go over to Bussard's place and Bussard would give him booze and let him take records from his pile of duplicates.  This was enough incentive for Fahey to swing by and cut the recordings collected here.
Compared to Fahey's recordings on his own Takoma label, most of these Fonotone ones are more traditional blues and folk, without the more experimental edge Fahey elsewhere explored.  One thing that should probably be pointed out is that some of these were released under an alias, and Fahey does some kind of "voice acting" that is best described as racist minstrelsy.  Aside from that, though, the guitar playing is quite good on almost all the cuts.
Things sort of modernize a bit to resemble Fahey's Takoma recordings on some of the 1962 cuts.  However, compared to the Takoma recordings some of these sound like only rehearsals.  Some terrible vocals and accompaniment also appear.  The more modern material from 1962 onward takes on a noticeably darker emotional tone.  The last disc, recorded mostly in 1965, is the best.  Fahey had grown tremendously as a guitarist, and he was now playing in his own unique, distinct style.