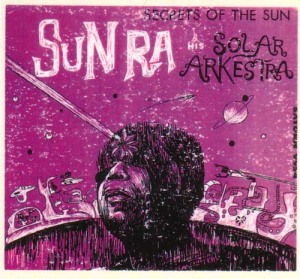 Sun Ra & His Solar Arkestra – Secrets of the Sun El Saturn GH 9954-E/F (1965)
---
At an exhibit on space exploration at Chicago's Science & Industry Museum, off a ways from near-advertisement "exhibits" about what your friendly neighborhood petrochemical company does for you and the glories of genetically modified frankenfoods, a corner of a sign reads: "'Space Is The Place' – Sun Ra".  If you want to understand why that's a true statement, just take a listen to Secrets of the Sun.
Sun Ra's best albums tend to be ones that focus on a single one of his many interests.  Secrets of the Sun is a moderately experimental effort that puts on display a lot of the things Ra was working with in the late 1950s and early/mid 1960s, with a decidedly sci-fi exotica feel to everything.  The solos aren't always as intriguing as they could be.  Still, this was one of the more listenable of Ra's albums to date.
The CD reissue of the album is great because it features "Flight to Mars", a track intended as side two of an album that was never released.  It's a pre-psychedelic masterpiece of Ra's 1960s period.  I'm tempted to say it's one of the best tracks of his early/mid 60s period.