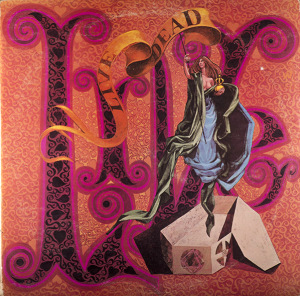 Grateful Dead – Live/Dead Warner Bros.-Seven Arts 2WS-1830 (1969)
---
Live/Dead was the Grateful Dead's first live album and is still one of their greatest. The group was at its peak and a classic lineup was still intact: Jerry Garcia, Bob Weir, Phil Lesh, Bill Kreutzmann, Mickey Hart, Tom "T.C." Constanten, and Ron "Pigpen" McKernan. Supposedly released to pay off a debt to their record company amassed when recording Aoxomoxoa, Live/Dead has since proved its own worth many times over.
The Dead in the late 1960s were more comfortable with themselves as a band than in earlier years. They had a symbiotic relationship going where each member's contributions sparked even more creative output. Three songs in the middle of this double-disc album are a good as any Grateful Dead on record (the myriad of bootleg material included). "Saint Stephen," "The Eleven," and "Turn On Your Lovelight" capture the Dead at their most daring and impassioned. I think just those three songs alone make this album well worth a listen.    There is something almost sinister about this album that seems to have only really surfaced here, never to return.  That's a shame.  While there are other good (even very good) live Dead albums, this is one of the few to have any of the anarchistic flavor of the late 60s. Into the 70s and beyond, when Dead live sets started coming out without almost a kind of regularity, the emphasis on easygoing songs seemed to take attention away from the abandon of pure performance.
On the other hand, this album feels like it goes just beyond their previous releases.  Where earlier Dead studio albums (with the exception of the live/studio hybrid Anthem of the Sun) tried too hard to be something they weren't, Live/Dead is more direct and to the point.  It makes the case for the Grateful Dead being one of the great live rock bands of the late 60s. This is the album that established the Dead's reputation as a fan's band. It avoids pretentiousness by simply showcasing the music that enthralled their fans at live performances. Too often live material is a note-for-note rehash of what you've already heard, and little more than a way to bilk die-hard fans for a few more dollars. This was almost unthinkable for the Dead (overlooking many ill-conceived post-1973 diversions). Early on, they seemed to have made music to have fun themselves. Taking chances wasn't optional. Live/Dead is a glimpse into a time when things weren't perfect but the essence of the feeling had lots of potential. Though it marked the end of the Dead's early period–they next moved to a country-rock style–the album is fluid and unapologetic.