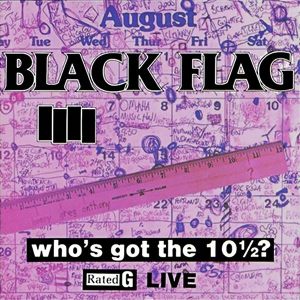 Black Flag – Who's Got the 10½? SST CD060 (1986)
---
Listeners self-segregate into a number of different camps when it comes to Black Flag's music:
Group I – The early Flag (pre-Henry Rollins) is the pinnacle; believes that proficient performance is blasphemous to punk rock; usually explicitly dislikes Henry; loves The First Four Years, Everything Went Black
Group II – Damaged is great but doesn't understand what the big deal is with anything else; loves Damaged
Group III – Admires the sludge-rock, free jazz/punk experiments and metal touches of the crop of 1984 albums; most likely to appreciate the band's entire career arc in varying degrees; loves My War, Live '84, The Process of Weeding Out
Group IV – This group doesn't actually exist, but theoretically they like the slicker hard rock of the later years; loves Loose Nut
These groups aren't clearly demarcated.  But by-and-large, Groups I and II tend to dominate.  Count me in Group III.  But it's worth keeping in mind where you fall on the spectrum, because if you fall in Group I, you'll probably never like the later years.  Too bad, though, because Black Flag was a group that evolved and made a lot of great music in surprisingly different ways through the years.  The much-maligned later years garnered a poor reaction in part from two studio albums (Loose Nut, In My Head) that have wide reputations as being too slick and failing to capture the group's strengths.  Their popularity declined too.  Once capable of filling sizeable venues, they were playing to scant audiences in small places by the later 1980s.  Personal frictions within the band also didn't help matters.  But they could still put on a fierce, well-executed performance and Who's Got the 10½? is all the evidence anyone should need.  In fact, anyone skeptical of the later years should head here first.  Every song cooks, with a pummelling energy that is paradoxically wielded with scalpel-like precision.  If you stack up all the lineups (ALL of the them), you probably have to concede that this one was the most technically proficient.  The real surprise is drummer Anthony Martinez, who manages to find the perfect balance of straight-ahead hard rock steadiness with a supple ability to switch gears that perfectly supports the music.  If you want Greg Ginn guitar freakouts, you won't get as much as the '84 live album, but still plenty to keep you happy.  Kira is still a more versatile bassist than Chuck Dukowski, even if Dukowski had more punk bona fides.  What you end up with is a well-oiled machine.  This band sounds professional while at the same time sounding like one with something real to say.  Unlike the studio albums of this era, Who's Got the 10½? actually makes full use of the group's strengths.  It's the most sympathetic document of Black Flag's work of this time, free from essentially all encumbrances of the studio.
Get the CD version.  The original LP issue was shortened, and there are plenty of good tunes added to the expanded CD.