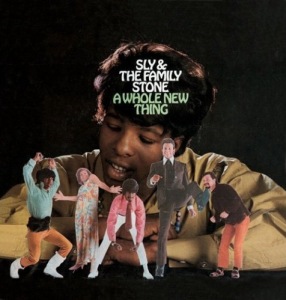 Sly & The Family Stone – A Whole New Thing Epic BN 26324  (1967)
---
A reviewer once described A Whole New Thing as "the most exciting mediocre record I've ever heard."  That about sums this up.  Sly was still working out the details of his whole new thing.  He would, of course, perfect it in just a matter of months.  What helps this album, though, is that whatever parts of Sly's vision were still under construction aren't terribly apparent behind the gale force of the music's raw energy.  Any album that opens with something like "Underdog" has achieved something.  It quotes the familiar melody of "Frère Jacques" for the effect of lulling you to sleep, only to jolt you awake with a big beat and punchy horns:
I know how it feels to expect to get a fair shake/
but they won't let you forget that you're the underdog/
and you gotta be twice as good
The album's weakest moments tend to be those with the most overt similarities to conventional soul of the day.  Sly evolved into an effective vocalist with perfect rhythm, but when he tries to be the typical kind of emotive soul singer (like you would find on Stax or Motown or Atlantic) his voice comes across as overly affected.  The vocals in general aren't as well integrated into the group's sound as they would be later.  Yet the best stuff — the up-tempo numbers, especially those dominating side one — are infectious even when the songwriting isn't Sly's best.  The group gets a lot of mileage out of even the thinner material.  A Whole New Thing is not an essential item, but even this somewhat lesser outing from one of pop music's greatest geniuses will entertain you.