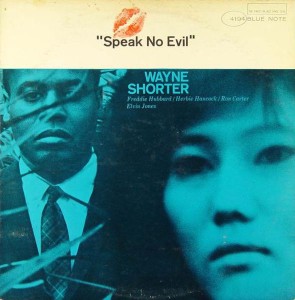 Wayne Shorter – Speak No Evil Blue Note BST 84194 (1966)
---
You don't have to know thing one about jazz to enjoy Speak No Evil. As party jazz or a stepping stone of mid-sixties post-bop (that leans ever so slightly towards the avant-garde), this album seems to appeal to everyone who hears it.
Wayne Shorter made a name for himself as a brilliant songwriter. Speak No Evil even features one of his most beloved standards, "Infant Eyes," which is the song that often brings people to the album. The mistake some make is to only think of Shorter as a songwriter. His sax style was his own, with a smooth melodic style like Freddie Hubbard only much mellower. In 6/4 on "Wild Flower," Shorter's lines create graceful motions. Hubbard and Shorter mix vibrato perfectly with the dance-like melody.
The horns sound bright even though, when you get down to it, the harmonies are unusual. Take the swinging 32-bar number "Witch Hunt" or the robust blues ballad "Fee-Fi-Fo-Fum." Shorter makes each song a classy affair. The album is somewhat eclectic in the songwriting, but it floats so effortlessly off the disc that there is no trick to taking it in its entirely. "Speak No Evil" is among the more distinctive tunes. Its medium tempo falls perfectly between a casual lope and a driving jaunt. Shorter steps outside his usual self. He soloing is more textural. Against precisely executed dissonant intervals Shorter and the band make themselves right at home. Again, as interesting as the compositions and improvisation is, there is no need to understand any of it to enjoy it all. Wayne Shorter as a bandleader gave opportunities for each of the stars in his band to shine. There was a lot of shining to be done.
Herbie Hancock slides in and brings along much of the style of the Miles Davis Quintet.  He is relaxed enough that his piano performances jump out from the rhythm section without having to force it.
Of course, the entire band is brilliant. It's that something extra a bandleader can't plan for. The December 24, 1964 recording session had everyone stealing the show simultaneously.
Classic jazz doesn't get any more classic than Speak No Evil. No matter how or what you like in music, you can find it all here. Dig it now rather than later.