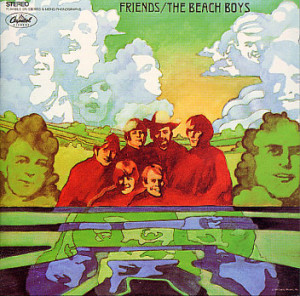 The Beach Boys – Friends Capitol ST-2895 (1968)
---
Brian Wilson's fingerprints indelibly marked the best Beach Boys music. Though the whole band was contributing, Friends comes together under Brian's guiding hand.
The opener "Meant for You" sums up the album: "As I sit and close my eyes, there's peace in my mind and I'm hopin' that you'll find it too/ and these feeling in my heart, I know, are meant for you."
Friends is essentially the Beach Boys' version of a spiritual/gospel record (like Wild Honey was their version of a soul record). The groups' vocal harmonies made a strong return. What had changed, though, was the overall mood. A calmness and peacefulness had set in with each and every band member. The music reflects all the warmth inherent in the vocals. Friends is practically a childrens record.
The easygoing spirituality of Friends is not its only achievement. The Beach Boys were still amidst their period of greatest creativity. "Transcendental Meditation" with its unusual sax lines even foreshadows The Stooges' Fun House slightly. The songs don't have the overpowering dance beats of the Beach Boy's best-known material but Friends takes a more sustainable approach. Brian's brilliant producer's instincts help songs like "Anna Lee, the Healer" all the right notes, all the right timbres, and all the right dynamics. "Busy Doin' Nothin'" runs through Brain's everyday activities and gives general directions to his Bel Air home. This is a dramatic statement of values. The autobiographical is what is important. His overtures present the classic theme of universal progress (for example, Mahatma Gandhi: "You must be the change you wish to see in the world"; Jesus: "When you know yourselves, then you will be known, and you will understand that you are children of the living Father. But if you do not know yourselves, then you live in poverty, and you are the poverty."). Once there are strong individuals, there can be strong societies. Brian Wilson was certainly doing his part.
Friends is Brian's personal favorite of all the Beach Boys albums. Everything the group did beginning with Pet Sounds and continuing through (and past) Friends was a (relative) commercial failure, but of course these same albums are the group's most innovative and enduring works. Friends may not get the fanfare that comes with having hit songs, but it is one of the Beach Boys' most likeable albums. It's vulnerable, yet insightful and content–the common characteristics of all of the Beach Boys' best music.