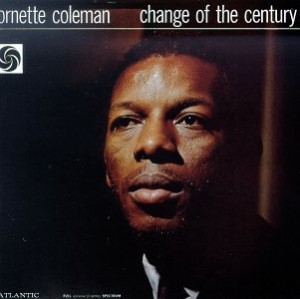 Ornette Coleman – Change of the Century Atlantic SD 1327 (1960)
---
The Shape of Jazz to Come gets more fanfare, but Change of the Century is just as classic. It's got too many catchy songs to say otherwise. "Ramblin'" and "Una Muy Bonita" have Ornette Coleman at his most lyrical. Coleman and his group are confident. The feeling that they could do anything proves true.
Much of the album leans toward bop, but when Coleman includes "Bird Food" you know the influence is intentional. There is more to music that pre-set harmonies and predictable song structure (A-A-B-A fits better into a Fred Flintstone catchphrase than into this album). The Coleman Quartet lets out some things that wouldn't suit the confines of traditional jazz. Comfort is not the point. These things were inexpressible unless Coleman could break free.
The oft-made comparison to Jackson Pollock's painting style is still worth repeating. These motherfuckers had the gravy. Insides-out. Calling them "sloppy" technicians is missing the point. Change of the Century fails by conventional standards because conventional standards had failed the group. So if you can get past blaming who for what, this is a hip slice of music.
Charlie Haden turns in a brilliant performance here. Apart from the tremendous songs, he makes the album unforgettable. Haden needs to be particularly pointed out. He earned that honor, no jive.
Ornette Coleman was as monumental a force as there was in Twentieth Century music. His albums don't come better than Change of the Century. This makes a cornerstone of any record collection.