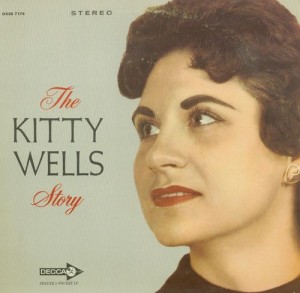 Kitty Wells – The Kitty Wells Story Decca DXS-7174 (1963)
---
Kitty Wells was arguably the first major female solo recording star in country music.  Before, women tended to be part of a group (think Mother Maybelle and Sara Carter of The Carter Family) or "girl singers" rotated in and out of predominantly male bands.  Her music was proto-feminist, and an inspiration to many who came after her.  Many of the songs on this early collection are sort of response songs, adding a woman's rebuttal to a possibly male chauvinist song.  That goes for the opener, her first big hit, "It Wasn't God Who Made Honky Tonk Angels." But that only amounts to "proto-" feminism in some ways, because it cedes to men the ability to set the terms of debate, offering only a rebuttal.

Wells grew up in Nashville, and her voice relies on an urban diction.  Loretta Lynn was a huge Kitty Wells fan, and Lynn's early recordings are cut from the same cloth, though many are even better than Wells' because Lynn carried more sassy rural weight in the tone and timbre of her voice.  But regardless of which female country star of the 1960s or beyond is your favorite, most owed some debt to the ways Kitty Wells (and Patsy Cline) made possible a market for independent-minded solo artists who weren't male.  This music also occupies a special place in which it is unmistakably country, with "sophistication" like having The Jordanaires on backing vocals, and elegant traded solos from instrumentalists (especially with pedal steel guitar), yet without the dumbed-down hypocrisy of the countrypolitan style that came to prominence in the 1960s.
There are a lot of great songs here, from "It Wasn't God Who Made Honky Tonk Angels" to "Lonely Side of Town" to "Making Believe" to "A Wedding Ring Ago."  And of course there is one of the most famous country songs, too, in "Makin' Believe."  The balance between sophisticated vibrato and half-growled words like "I'll" and "ain't", against plaintive guitar, bass and often wordless vocal backing harmonies, it has just about a perfect confluence of consonance and contrast.  Wells earned the title of the Queen of Country Music with these recordings.  Over a half-century later they still sound great.