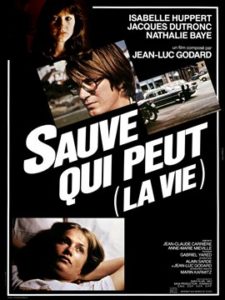 Sauve qui peut (la vie) [Every Man For Himself] (1980)
MK2 Diffusion
Director: Jean-Luc Godard
Main Cast: Isabelle Huppert, Jacques Dutronc, Nathalie Baye
---
After a period of making aggressively experimental films and becoming isolated (his own word for it), Jean-Luc Godard returned to making widely shown and distributed films with Sauve qui peut (la vie) (released in the USA under the title "Every Man for Himself").  Decades later, other works like Film Socialisme were still resembling this film.  That makes Sauve qui peut a landmark within Godard's career.
The composer Karlkheinz Stockhausen has spoken (Musical Forming: Composing Statistically (1971)) about how "if you are able to compress an entire Beethoven symphony into half a second, then you have a new sound, and its inner microstructure has been composed by Beethoven."  It would not sound like a symphony, but to human perception would resemble a single tone with a particular timbre.  The individual elements surpass a group, and completely different relationships begin.  Godard is concerned with the cinematic equivalent of that issue of the temporal limits of human perception — though tending toward expansion rather than the compression Stockhausen discussed (and maybe akin to key parts of Blow-Up).  A technique he had developed working with videotape for a television mini-series shortly before making Sauve qui peut had him deploying slow motion effects.  He applies a version of that to film here.  One scene has two of the main characters fighting in a kitchen, and Godard said he decided to show the incident in slow motion to reveal meaning that would not be perceptible at regular speed.  He wanted to show that as they physically fight and fall to the ground — what would happen in an instant in real time — the characters maybe still love each other, something that viewers tend to contemplate as the characters are held in contact as they fall.
Godard biographer Colin MacCabe wrote that men become film directors to meet women, and that quip at one time seemed to accurately describe Jean-Luc Godard, in his early career, but that phase was a distant memory by the the time of his "Second Debut" Sauve qui peut (la vie).  There are strong feminist themes here.  Though Godard emphasized in interviews in this era how a key preoccupation of the film was with workers and their work.  The absurdities, degradation, and obstacles bound up in working are sublimely stylized and symbolized in scene after scene — many of which ponder questions around privilege, exploitation and self-identity.  In the decades immediately following the film's release, these aspects of work have not changed but perhaps only intensified, making Godard's oblique insights of what might have been passing sociopolitical circumstance still seem compelling and relevant.  Godard's films might be many things, but they are certainly not lacking for starkly original images.  This one is a bit more grounded than some of his early films, in that the romanticism and cinephilia is less pronounced, and in place a more nuanced view of the travails of "ordinary" life.
This is yet another astounding film from one of cinema's truly great and visionary figures.  Count this as essential viewing for his admirers.