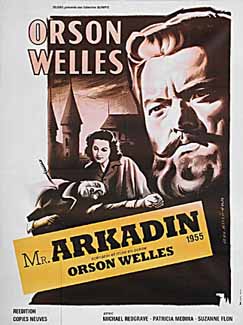 Mr. Arkadin [AKA Confidential Report] (2013)
Filmorsa/Cervantes Films/Sevilla
Director: Orson Welles
Main Cast: Orson Welles, Robert Arden, Paola Mori, Patricia Medina
---
There are few movies that so clearly explain Jacques Lacan's concept of the "barred subject" ($) in psychoanalysis like Orson Welles' Mr. Arkadin.  The concept is that the subject, the essence of the consciousness of a human being, is a void or lack, and people are driven to try to fill that void to be perceived by others in a certain way.  This is almost a summary of Welles' film!  Arkadin (Welles) is a wealthy and secretive financier.  Guy Van Stratten (Arden) is con man of sorts who tries to get close to Arkadin, then winds up working for him to investigate the man's allegedly forgotten past.  As the film concludes, Van Stratten discovers that Arkadin always knew his about his past, when he was a member of a crime syndicate, but saw himself as just an empty vessel to create the Arkadin persona to be seen as powerful in the eyes of his daughter Raina (Paola Mori).
In his entire career, Welles only had complete creative control on two films.  This was not one of them.  As such there are a lot of different edits circulating.  Criterion Collection has issued what they call a comprehensive edition.  They seem to have put together the best and most coherent version I've seen.
This film was not regarded very highly at the time, except by the French.  That makes sense.  After all, Lacan was French.  Some superficial readings focus on the simple plot twist whereby Arkadin uses Van Stratten to locate his past criminal associates to eliminate them one by one.  But the film opens and closes with an plane flying empty, that once contained Arkadin.  He disappears when he daughter discovers his personal history, and the foundational crime that established his persona as a powerful financier.  His power and authority is premised on his past being concealed.  More importantly, though, Arkadin is revealed as nothing, the barred subject, like all of us.