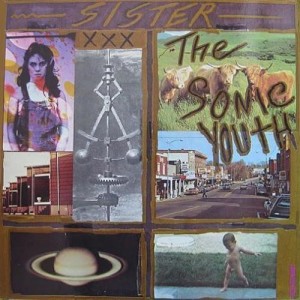 The Sonic Youth – Sister SST 134 (1987)
---
The Sonic Youth at their best master the simplest points of music. They arrived at songs with insight and momentum, just from unique angles.  While the follow-up Daydream Nation may be canonized as the band's finest album, Sister has a stomping, (intentionally) irritating attitude with a wonderful balance of noise and tangible rhythm and melody.  This is the more immanently listenable.
The Youth did have some of the most inventive rock instrumentalists in the game, but there was no need to dazzle listeners with gratuities. Lee Ranaldo and Thurston Moore excel at shading distortion with their improvisational attack. The raw technical aspects seem simple, but chalk that up to these stylistic wonder-kids making the impossible seem effortless. Hardly since The Velvet Underground's White Light/White Heat had a band pushed guitars past their breaking point like this.
In their early noise band days Sonic Youth were exciting and original but an exceedingly challenging listen. With EVOL, Sister, and Daydream Nation the Youth continually increased the complexity and but also the rewards.  EVOL came close, but Sister was truly the record that put them on the map.
Noisy as they were, the Sonic Youth put together some great anthemic tunes. The opener "Schizophrenia" tells of haunting thoughts: "My future's static/ It's already had it." The Youth grew out of no-wave. Every step they took added to that movement. There was some distance between them and no-wave but it was assuredly the result of forward movement.
You gotta hear the album from start to finish since every track burns its own kind of fuel. "Pipeline/Kill Time" moves into a passage near the end where Steve Shelley's drums beat out a slowing pattern, enough to slow your existence with the rhythm. The guitars dish out a reminder they are electric. "Tuff Gnarl" is the very essence of the Sonic Youth. It's loud, non-linear, and has plenty of R&B riffs to keep you dodging the jabs. Pretty soon something sticks. The relentless advance will knock you down, and out. Kim Gordon has her nasty bass action in effect on "(I Got A) Catholic Block." The rendition of Johnny Strike of Crime's "Hot Wire My Heart" has the most abrasive guitar work on the disc. It doesn't grind away at you. It polishes rock 'n' roll. The result isn't a shine, but more one that glints to eyes opened just right to look outside. "Master-Dik" is a reminder that Alice Cooper and Madonna influenced them as much as the Velvet Underground.
The Sonic Youth were key figures of the post-punk explosion who achieved success without compromising. They had the drive and the blood-rush rock 'n' roll attitude that was already in decline around them. Somehow they held on to it.